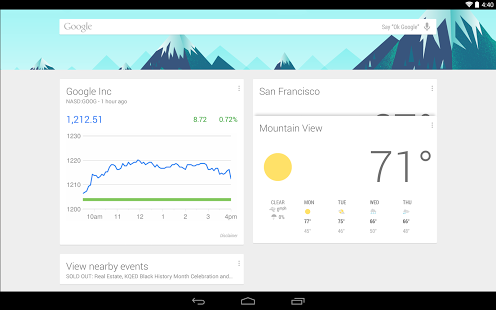 Google Now Launcher just keeps getting better and better… this time with news that the app has rolled out integration with 40 third-party apps. By taking advantage of this functionality, developers can use cards to display notifications, summaries, and any relevant details for you to view at a glance.
According to Google (from their blog, describing the integration in more detail):
"In the morning, catch up on news of the day with cards from The Guardian. On your commute, Pandora can give you recommendations for music to play, based on what you like, or you can be reminded to complete your daily French lesson on Duolingo. During your downtime, you can take care of the groceries, with a card from Instacart reminding you to stock up on the things you often order. If you're planning a trip and looked up places to stay on your Airbnb app but couldn't make up your mind, you'll see Now cards from Airbnb for the location and dates you've researched. And when you land at an airport, you'll see a card to order a Lyft."
The current list of supported apps (in alphabetical order) includes: Airbnb, Belly, BookMyShow, Busuu, Coinbase, Cookpad, Delivery Hero, Duolingo, eBay, ESPNcricinfo, Ford, Hailo, Hootsuite, Housing, Instacart, Kayak, Life360, Lincoln, Lyft, Meru Cabs, Mint, Mytaxi, Pandora, Redfin, Runtastic, Runtastic Me, Shaadi, Shazam, SmartNews, Strava, Suumo, The Economic Times, The Economist, The Guardian, TripAdvisor, Walgreens, Wattpad, Waze, and Zillow.
While this integration is now in place, don't be concerned if you haven't yet seen any of the new third-party cards –Google has planned a staged roll-out that will be completed in the coming weeks.
If you haven't already got it installed, download Google Now Launcher for Android now.
Jillian Koskie is an experienced software developer, content writer, project manager and usability design expert. With over 17 years in these roles, Jillian has enjoyed applying her skill-set to assist clients and users across a wide variety of sectors including: legal, health, and financial services. Combining these professional opportunities with a love of technology, Jillian is pleased to contribute articles, opinions, and advice to numerous news outlets, websites, and publications.