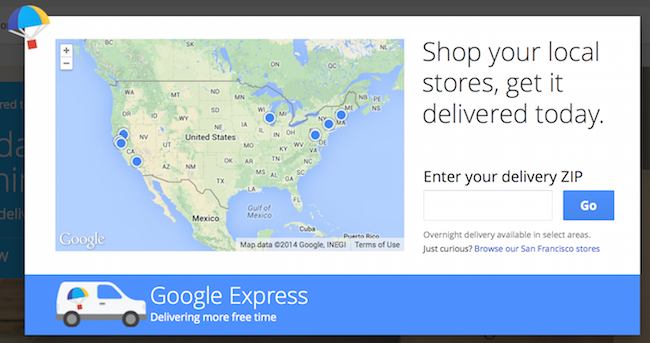 Usually when Google takes aim, the target is Apple –this time, Amazon is more clearly locked in their sights. Google's Brian Elliott, Head of Partnerships at Google Shopping, announced this week that they would be rebranding their services as Google Express and expanding to three new cities: Chicago, Boston, and Washington, D.C (not to mention the fact that they added 16 new participating merchants to their roster with familiar names like: Barnes & Noble, PetSmart, Vitamin Shoppe and Sports Authority).
Much like Amazon Prime's Same Day delivery service, Google Express intends to bridge the gap between shopping at your favourite local stores and the convenience of being able to do that online. To this end, I'm certain it isn't a coincidence that Google has undercut Amazon's $99 annual membership fee by charging $95 for their equivalent (after three free months during which you can give it a try). You can of course pay by the order as well, but it adds up quickly with a $5-$8 surcharge applied to each.
So what privileges does this membership provide? It's all about same-day delivery… at least as long as you are one of the lucky 7-million people who happen to live in the right city and want products from the right stores. Truth is that things are rather limited right now, but it's a good start.
Analysts are busy trying to figure how less retail foot traffic affects businesses, with many suggesting that it won't eliminate the need for employees, but rather change the type of work that needs doing (picking and packing orders instead of dealing directly with customers).
For those of us already delighted by online shopping, Google (and others) embracing rapid shipping practices demonstrates positive forward momentum. It also means that one day, sooner than later, I may not have to leave the house to brave huge retail outlets (and their parking lots) for boring things like toilet paper and laundry soap.
Jillian Koskie is an experienced software developer, content writer, project manager and usability design expert. With over 17 years in these roles, Jillian has enjoyed applying her skill-set to assist clients and users across a wide variety of sectors including: legal, health, and financial services. Combining these professional opportunities with a love of technology, Jillian is pleased to contribute articles, opinions, and advice to numerous news outlets, websites, and publications.