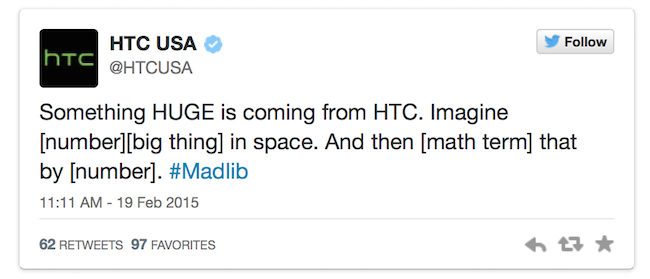 Try as they might, nobody hypes a product launch like Apple… which is amazing because they pretty much let the tech community do it for them. The problem with this formula is that is it very difficult to duplicate, even for tech giants like HTC –though credit where it is due, a fairly clever Tweet this week has people talking at least a little bit. Apparently something huge is coming to us on March 1 (which is kind of a silly teaser when they have already confirmed that the HTC One M9 is the product of the day).
Those in the know figure the reference to 'huge' in the tweet isn't so much referring to the gravity of their upcoming launch, but rather hints that there will be a larger-sized version of the HTC One M9; a device that would give consumers two size options while providing a (potentially) competitive entry into the phablet-device market.
The sequel to the popular HTC One M8 has big shoes to fill, but if the rumours can be believed, that shouldn't be much of a problem (which is especially important when it is likely to come with an off-contract price between $750-$920USD, placing it directly in competition with the best from Apple and Samsung).
While nothing is certain, the new devices should sport 3GB of RAM, start at 32GB of internal storage, and boast a 20MP rear camera paired with a 13MP front camera capable of taking 4K video –the only unknown seems to be exact processor details, though the one consistent report says we can look forward to a 1.9GHz octa-core.
Jillian Koskie is an experienced software developer, content writer, project manager and usability design expert. With over 17 years in these roles, Jillian has enjoyed applying her skill-set to assist clients and users across a wide variety of sectors including: legal, health, and financial services. Combining these professional opportunities with a love of technology, Jillian is pleased to contribute articles, opinions, and advice to numerous news outlets, websites, and publications.