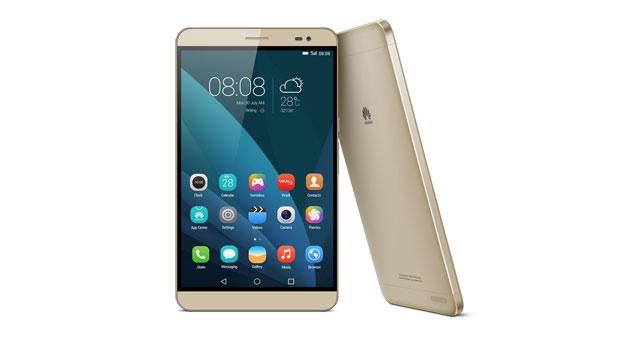 On top of being a company whose name is rather fun to say, Huawei joined those making big announcements at Mobile World Congress. During their unveiling of a phablet-style smartphone, we learned that the new MediaPad X2 is a little hard to grip (literally)… with a screen measuring a mere 7-inches (somewhere out there Shaquille O'Neal is delighted that there is finally a phone made especially for him).
Two versions of the MediaPad X2 will be available: one featuring 2GB of RAM and 16GB of storage, the other with 3GB of RAM and 32 GB of storage. Other specs for the device include a 1920×1200 resolution display, 5000mAh battery, 13MP rear camera and 5MP front-facing camera, Cat 6 LTE support, and boasting a 2.0GHz Kirin 930 ultra-octa chipset.
During the release, Huawei assured would-be users that it isn't uncomfortable to hold –but a headset may make phone functions a little easier to handle (while also enjoying 12 hours of streaming online video, 15 hours of Internet surfing, or 60 hours of music playback).
We have no idea yet what this beauty will cost us, but it does feature the more stylish aluminum casing we have come to love from the likes of Apple and their iPhone lineup.
I have to admit, that my tiny little hands would be challenged by a 7″ phablet –but after falling in love with my iPhone 6 Plus, it's easy to understand why somebody with more finger-span might enjoy having that little bit of extra screen real estate.
Jillian Koskie is an experienced software developer, content writer, project manager and usability design expert. With over 17 years in these roles, Jillian has enjoyed applying her skill-set to assist clients and users across a wide variety of sectors including: legal, health, and financial services. Combining these professional opportunities with a love of technology, Jillian is pleased to contribute articles, opinions, and advice to numerous news outlets, websites, and publications.