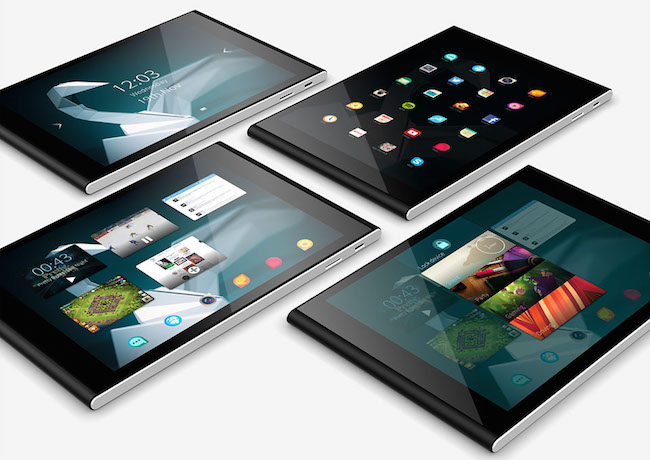 A year after their first smartphone was introduced, Finnish technology company Jolla has successfully funded their IndieGogo project aimed to create a tablet. Looking to raise $380K, supporters have already pledged over $865K (and the campaign doesn't end until December 9, 2014).
Jolla's tablet should take specific aim at Apple's iPad Mini and the recently announced Nokia N1 (though it will not be as thin or have an aluminum-bodied shell), featuring a 7.9-inch display with 2,048 x 1,536 resolution, a quad-core Intel processor, 2GB of RAM, and 32GB of internal storage… only it will not run iOS or Android –this device will take advantage of the startup's Sailfish 2.0 operating system (which is able to boast 9 updates, 350 new features, and over 13,000 bugs fixed since their initial release; not to mention compatibility for Android apps).
Several incentives for supporters are being offered, though several have sold out, including among the first to receive a Jolla tablet (for a contribution of $204 USD as long as you live in one of the supported regions: EU, Norway, Switzerland, USA, India, China, Hong Kong, or Russia). For those with less to spend, $10 USD will get your name on the Jolla First Ones webpage.
Until the second quarter of 2015 when these little beauties are expected to ship, we will have to satiate ourselves with the product video created by Jolla.
Jillian Koskie is an experienced software developer, content writer, project manager and usability design expert. With over 17 years in these roles, Jillian has enjoyed applying her skill-set to assist clients and users across a wide variety of sectors including: legal, health, and financial services. Combining these professional opportunities with a love of technology, Jillian is pleased to contribute articles, opinions, and advice to numerous news outlets, websites, and publications.