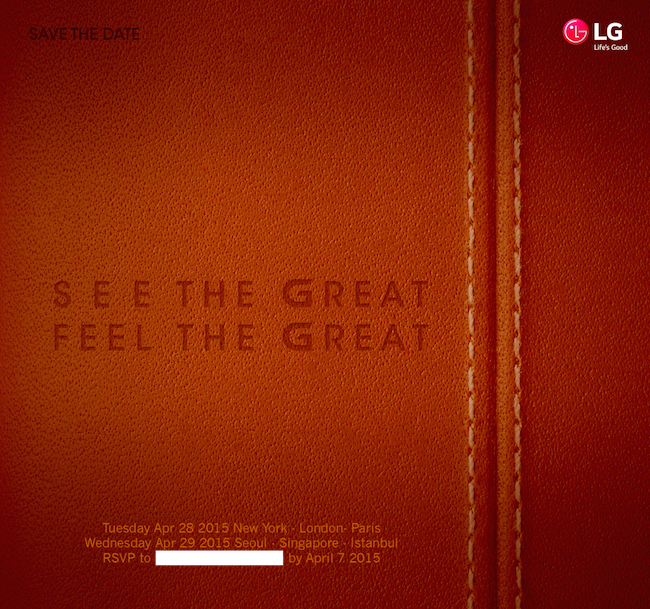 Next on the list of big launch events is coming out of LG on April 28 in New York, London, and Paris simultaneously (with an event in Seoul, Singapore the following day, on April 29). There are no guarantees of course, but we have our fingers crossed that it means there will be a new version of their flagship smartphone coming from the South Korean company, the much-anticipated LG G4 (which seems even more likely when you take a close look at the enlarged G's on the invitation, pictured above).
(If we take the design of the invitation literally, it may also mean that a leather-backed body should also be expected…)
Those loving rumours and speculation will be happy to know that benchmark results have been spotted around the Internet suggesting the LG G4 will run Android 5.1 Lollipop, be powered by a hexa-core 64-bit Snapdragon 808 processor, sport a 5.5-inch QHD display (boasting 1440×2560 pixels), have 3GB of RAM, feature 32GB of on-board storage, and take photos with an 8-megapixel front camera. The exterior design is still somewhat of a mystery, though the expectations are that the phone will be 'radically different' than their current LG G3 flagship smartphone.
If LG wants to compete with the big guys out there already (thinking most specifically about the recently launched Samsung Galaxy S6), there had better be a secondary announcement of a phablet-sized version of the G4 –but there is no word yet on how likely that is.
Are any of you looking forward to seeing what LG has to offer? What would persuade you to choose LG over other phones from the reigning Android heavyweights (beyond Samsung's Galaxy S6, the HTC One M9 has serious competitive potential)?
Jillian Koskie is an experienced software developer, content writer, project manager and usability design expert. With over 17 years in these roles, Jillian has enjoyed applying her skill-set to assist clients and users across a wide variety of sectors including: legal, health, and financial services. Combining these professional opportunities with a love of technology, Jillian is pleased to contribute articles, opinions, and advice to numerous news outlets, websites, and publications.