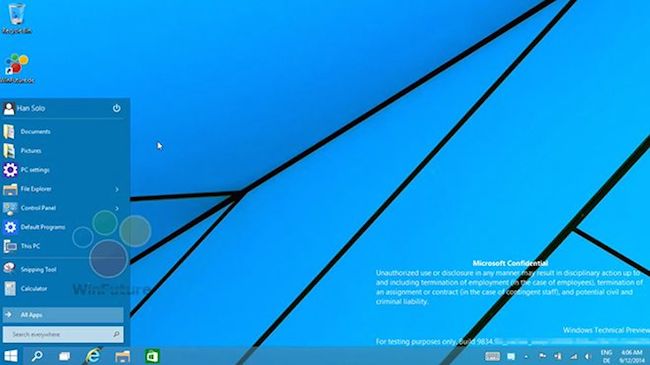 Microsoft is no stranger to making huge mistakes with their Windows operating system. Beginning with Windows ME many moons ago, we all learned to be skeptical of the next best version that they have promised us. Even worse, some of us got so tired of Windows updates and service packs that we made the move to Apple and Mac OS. In a best effort to win back market-share and beg for market dominance once again, Windows 9 has been promised (and it will fix all that we hate about Window 8, they swear).
Keeping in mind that it's very early (heck, Microsoft promised us Windows 8 for a few years before we ever saw a meaningful release of the software), there are a few versions of things floating around –some start menus we see have tiles, while others seem to be lacking those annoying graphics. This may mean that they are optional and configurable (which is likely).
The important takeaway from this leak –our comfort zone has been re-added… and those that missed the start menu desperately will be breathing a huge sigh of relief.
Jillian Koskie is an experienced software developer, content writer, project manager and usability design expert. With over 17 years in these roles, Jillian has enjoyed applying her skill-set to assist clients and users across a wide variety of sectors including: legal, health, and financial services. Combining these professional opportunities with a love of technology, Jillian is pleased to contribute articles, opinions, and advice to numerous news outlets, websites, and publications.