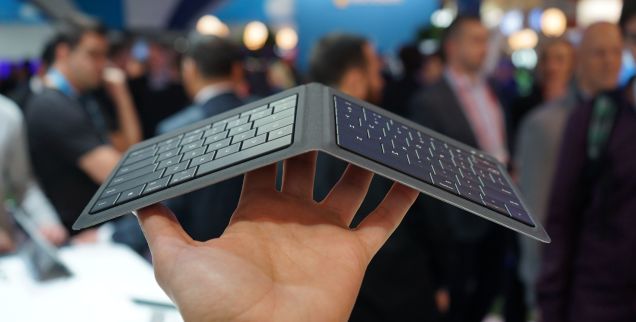 It isn't very often that Microsoft creates a product that truly turns my head, but their introduction of a foldable keyboard at Mobile World Congress is a definite exception. While most of me wonders why people cling so desperately to the idea of having a physical keyboard for their touch-screen devices, another part has to admit there are occasions when having one would be awfully convenient (especially when it works equally well with Android, iOS, and Windows Phone powered devices –complete with the special, platform-specific keys present and accounted).
We have all seen the keyboard cover-style cases, and frankly there are plenty of good options available (heck, Microsoft has even turned their Surface Pro 3 Touch cover into a near-trademark) –but what about those of us interested in a little less keyboard commitment? Truthfully, the look and feel of this accessory is so refined it's almost as if Apple had been involved in the design process. Microsoft's new keyboard is crazy thin, folds directly in the middle, and includes a well-placed magnet capable of holding the whole deal together (while you slide it effortlessly into your jacket pocket or that formerly useless side pocket in your laptop bag or purse).
Concerned about battery life? This keyboard will apparently last nearly three months on a single charge. Even if this length of time is unrealistic, I have no problem doing a little charging on a monthly basis –I just don't want to be on the list of things that need charging daily.
Given the sleek profile of this accessory it may also surprise you to find out that the keys have just the right amount of tactile response. Connectivity is provided by Bluetooth as you likely expected, or by way of a microUSB cable if you prefer (and your device allows).
If you need to have one of these as badly as I do, visit a Microsoft Store this July and hand over $99.95 USD.
Jillian Koskie is an experienced software developer, content writer, project manager and usability design expert. With over 17 years in these roles, Jillian has enjoyed applying her skill-set to assist clients and users across a wide variety of sectors including: legal, health, and financial services. Combining these professional opportunities with a love of technology, Jillian is pleased to contribute articles, opinions, and advice to numerous news outlets, websites, and publications.