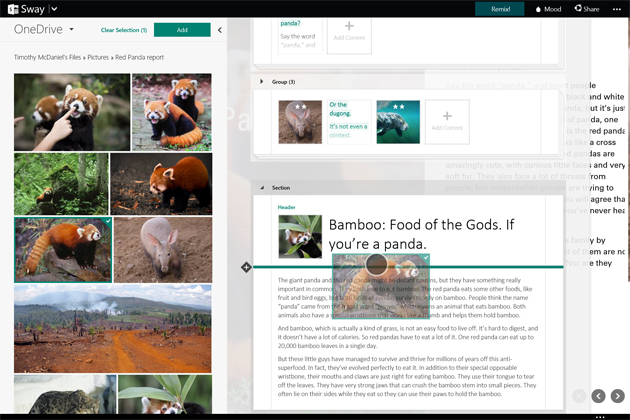 Nobody is more surprised than I am that Microsoft is doing so well in the software game these days. Once upon a time the tech giant was so focused on operating systems that they had neglected just about everything else (which has really shown in their sales and reviews in recent years). Fortunately, they have new leadership with a seemingly fresh focus: apps, apps, apps (web-based as well as mobile). Their latest entry into this market is Sway: an online tool aimed to help you create presentation documents. Sway is built for the cloud, and adds to the company's efforts in converting Office into a newly-successful, centrally-hosted, subscription-based product.
When the Sway preview began 10 weeks ago, Microsoft wait-listed a large number of the users requesting access (apparently there were over 175,000 requests to join across 1 million unique visitors –very good conversion numbers). There is a method to their madness in adding more beta-testers (essentially): they want feedback, and it actually sounds like they are willing to listen to it; existing user requests have seen the addition of features like: undo and redo, bulleted lists, direct text editing on the canvas, easier reordering, colour picking and pallette diversity, and PDF import.
Microsoft has promised that mobile apps supporting Sway will be available in due time (and in reality, there is an iPhone app already, but it's limited to users in New Zealand and very much in its infancy), but for now hitting the Sway website using any browser on your PC, Mac, or tablet will do the trick.
Whether you are excited to try Sway, or question what you might do with it, one thing is certain: Microsoft is doing their best to reinvent their signature Office product line and so far, they are doing with a certain refined software elegance.
If you want to see Microsoft's full vision for Sway, take a few minutes and watch their promotional video linked below.
Jillian Koskie is an experienced software developer, content writer, project manager and usability design expert. With over 17 years in these roles, Jillian has enjoyed applying her skill-set to assist clients and users across a wide variety of sectors including: legal, health, and financial services. Combining these professional opportunities with a love of technology, Jillian is pleased to contribute articles, opinions, and advice to numerous news outlets, websites, and publications.