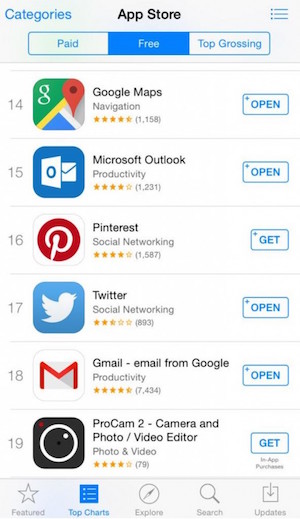 Downloading Microsoft's updated Outlook app for iOS devices made me feel more than a little nostalgic; once upon a time the word Outlook was basically synonymous with email, but in the past few years, Gmail took over in that capacity. Well times have changed again, with iOS charts showing Outlook is back on top.
Wondering why you'd want to use Outlook when iOS 8 just brought a number of updates to Apple's native mobile email client? If you ask me, it's all about unification (with a few decades of experience sprinkled in too). Key features of Microsoft's mobile Outlook app include: inbox management (with automatic triage that puts important email front and centre, swipe gestures, and scheduling for delayed handling), built-in calendar (no more switching back and forth between your email and your calendar making it very easy to schedule meeting times and appointments), and attachment management (view and send files from your email, OneDrive, and Dropbox with a few taps… even if they aren't already on your device).
Last year Microsoft purchased the popular mobile email management app, Acompli –the signature of which can be seen clearly through this updated version of Outlook.
Even if their reign ends up being short-lived, any time at the top of the app charts qualifies as a win for Microsoft as they make a name for themselves in the mobile app marketplace (it is also good news for those users who are not anxious to be tied down to any one particular mobile platform).
If you aren't satisfied with the way your email is currently handled across your iOS devices, download Microsoft Outlook for free now and see if it better meets your needs.
Microsoft Outlook Preview is also available for Android devices, and is being met with equally good reviews to the iOS version.
Jillian Koskie is an experienced software developer, content writer, project manager and usability design expert. With over 17 years in these roles, Jillian has enjoyed applying her skill-set to assist clients and users across a wide variety of sectors including: legal, health, and financial services. Combining these professional opportunities with a love of technology, Jillian is pleased to contribute articles, opinions, and advice to numerous news outlets, websites, and publications.