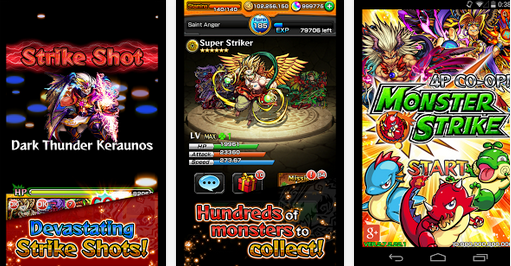 Fans of classic video game titles such as Street Fighter 2 and Final Flight will be excited to play the latest release from Yoshiki Okamoto: Monster Strike. The game is reminiscent of other monster collecting games, like Pokemon and Digimon, but with action and RPG elements added in. Originally released in Japan, Monster Strike is now available on Android (and iOS) across North America.
You begin by selecting your first monster teammate (I went with Blue Smydra –he didn't have the highest attack or HP stats, but he was the fastest choice), then setting forth to pull back and sling him into your enemies in an effort to attack! There are a series of special moves that you can unleash as you defeat bosses and progress through the game, keeping you engaged and interested as you play. While it sounds simple, there is a lot of detail and complexity that will make you grateful there is a detailed tutorial mode that guides you through getting started.
The game also features a social media component that allows you to team up with friends in groups of 4!
If you are in the mood to play a game that gives you a true feeling of what classic pinball arcade games should be like with a touchscreen, modern, RPG-inspired twist, then give Monster Strike a try and download it for free now.
Jillian Koskie is an experienced software developer, content writer, project manager and usability design expert. With over 17 years in these roles, Jillian has enjoyed applying her skill-set to assist clients and users across a wide variety of sectors including: legal, health, and financial services. Combining these professional opportunities with a love of technology, Jillian is pleased to contribute articles, opinions, and advice to numerous news outlets, websites, and publications.