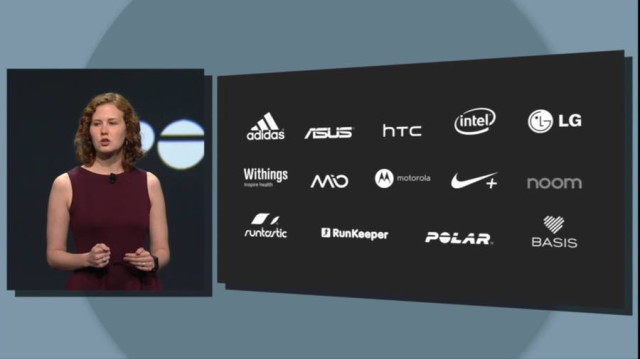 Care and concern for our health is one of the few things that we all share with each other –everybody has fitness goals of one sort of another and we all want to be the healthiest version of ourselves that we can (at least in theory if not in practice). Google announced their effort to help us achieve these goals in the form of Google Fit: an open platform that includes a single set of APIs serving to give developers access to a method of combining the results from any other apps and companion tracking devices. The result? Google Fit provides users with a well-rounded picture of their health.
It isn't yet known what the front-facing version of Google Fit will look like, but it is expected to aggregate statistics for many health-related things like weight, diet, heart rate, blood sugar, and exercise (all with the user's permission, of course).
As part of today's announcement, it was revealed that many partners (such as Nike, Adidas, Withings, RunKeeper, and Basis) are already on board and ready to work with Google Fit.
No matter whether it is Google Fit or Apple's rival HealthKit, there is a certain feeling of comfort knowing that in the foreseeable future when our physician asks us what medication we are on, how much we have slept recently, what we may have eaten or how much exercise we have been getting… we will have a meaningful (and truthful) series of answers.
Jillian Koskie is an experienced software developer, content writer, project manager and usability design expert. With over 17 years in these roles, Jillian has enjoyed applying her skill-set to assist clients and users across a wide variety of sectors including: legal, health, and financial services. Combining these professional opportunities with a love of technology, Jillian is pleased to contribute articles, opinions, and advice to numerous news outlets, websites, and publications.