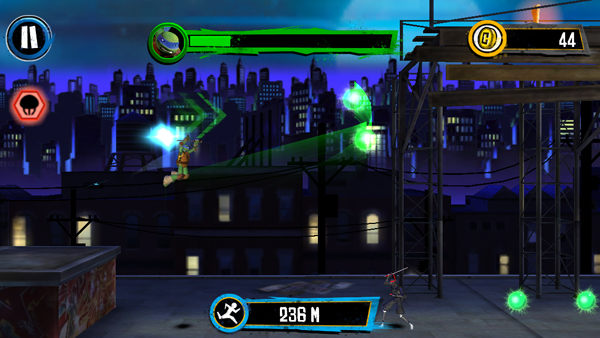 Whether you were watching Teenage Mutant Ninja Turtles as a child alongside me, or you are seeing them for the first time as they regain popularity, I can guarantee that you have a favourite superdude. Nickelodeon is giving you the chance to play as Leonardo, Michelangelo, Donatello, or Raphael in an effort to launch Ninjitsu-style attacks that will protect the city against Shredder and his minions.
Beyond the awesome stars of the game, the interface is sophisticated enough to deliver a true feeling of being a martial-arts fighter (at least virtually, anyway). When an enemy is near, upward swipes will send them flying while a horizontal slide of your fingers will execute attack moves. If you manage to avoid getting hit, your turtle power meter will fill and the combo multiplier delivers fast mini-games (where you get the change to fight as a group with all 4 turtles) that add to the action and excitement.
The more you play, the more you can upgrade your turtle (I recommend choosing Leonardo, because, well… he's clearly the best).
If you are excited by the idea of masquerading as a butt-kicking turtle, download Teenage Mutant Ninja Turtles now for $3.99 CAD (with additional in-app purchases available).
Jillian Koskie is an experienced software developer, content writer, project manager and usability design expert. With over 17 years in these roles, Jillian has enjoyed applying her skill-set to assist clients and users across a wide variety of sectors including: legal, health, and financial services. Combining these professional opportunities with a love of technology, Jillian is pleased to contribute articles, opinions, and advice to numerous news outlets, websites, and publications.