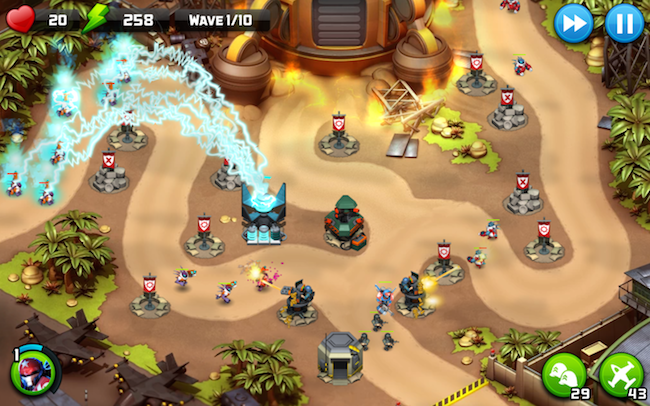 There are plenty of games around just like it, but sometimes you need a little tower defense strategy game time to help you unwind. To that end, Alien Creeps TD is a game worthy of your attention. Brought to you by the developers at Outplay Entertainment, Alien Creeps TD is equal parts challenging and addictive. A quick tutorial when you begin the game will get you started, and in no time you will be using the energy gained from dead aliens to build more towers!
As you embark on each campaign, choose which research to pursue that will supplement the defensive weapons you have available to fight of the hoards of invading aliens. Just when you think you've dominated enough enemy forces, in flies the helicopter with your reinforcements and you are left wondering if you can beat just one more wave of bad guys. Of course, my favourite part has to be the air strikes… where you sweep in and take care of business in a serious way.
Progressing through each level means you earn resources that allow for the purchase more training for your heroes (or even recruiting new talent), all of which feels very satisfying.
The graphic quality inside the game is quite impressive, with just enough animation to keep you engaged without adding to load times or unnecessarily increasing complexity.
I have to say that I intended to put this game down about a dozen times before I was able to; anybody who is a sucker for a good strategy title might just face the same fate.
If you find yourself in the mood for a little good old fashioned tower defense, download Alien Creeps TD and try your hand at saving earth. The app is free to download and play, but in-app purchases promise to speed up your progress for those of you who are a little less than patient (like me).
Jillian Koskie is an experienced software developer, content writer, project manager and usability design expert. With over 17 years in these roles, Jillian has enjoyed applying her skill-set to assist clients and users across a wide variety of sectors including: legal, health, and financial services. Combining these professional opportunities with a love of technology, Jillian is pleased to contribute articles, opinions, and advice to numerous news outlets, websites, and publications.