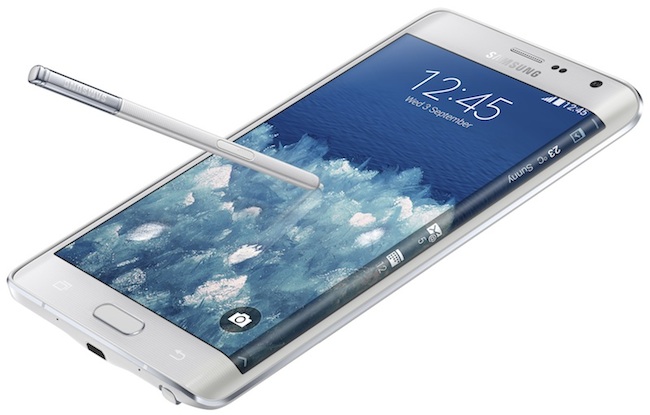 Samsung kicked off the September of product launches with an event that brought us a new Galacy Note 4, Note Edge, Gear S Watch, and Gear VR Headset. When you are the company usually accused of copying Apple and their designs… it takes guts to hold your event first, and it takes talent to release products that get people talking. Samsung accomplished both of these things.
Galaxy Note Edge
We saw hints of this curved display (from a distance) over a year ago, but it looks even more amazing when up close. The Galaxy Note Edge is an innovative looking smartphone with a display that rounds off over the right hand side of the screen. It's sleek. It's sexy. It's DIFFERENT. While it may make putting this phone inside a case a bit more of a challenge, that isn't something consumers have to worry about. It appears practical (allowing you to slide menu items off to the side while still keeping them touchable and accessible. It's extra screen real-estate (to the tune of 160 rows of extra pixels) without making a larger device –and it's exciting!
While this is a bit of a monster as far as smartphones are concerned, the Edge offers a lot of function that may be attractive to power users (unless you happen to be left handed, initial reports are telling us that the screen feels sharp and uncomfortable on the tapered side).
The specs of the phone are the same as the Note 4, so keep reading to learn more.
Galaxy Note 4
Coming in at 3.8mm narrower than the Not Edge, but 2.2mm longer, the Galaxy Note 4 is apparently a little more comfortable to hold. It doesn't have the beautiful tapered side, but it's still an updated version of the over-sized 5.7″ Note that many smartphone users have come to love. It now has an aluminum frame, making it look classier and higher-end –which is good, when you are trying to market a device as a premium smartphone. The glass appears flat, but it is 2.5D, meaning there is a subtle bend along the edges of the screen.
Other improvements are standard fare: an improved front-facing camera (with a 3.7MP sensor and an aperture of f/1.9 giving better low-light photographs), improved battery (going from 3,200mAh to 3,220mAh), Super AMOLED screen that improves on the previous 1080p resolution (now 2,560×1,440), upgraded rear-facing camera (16MP over the previous 13MP), and a faster 2.7GHz quad-core Snapdragon 805 processor with a 600MHz Adreno 420 GPU. The RAM remains the same as the Note 3, at 3GB. 32GB and 64GB models will be available, which means you can bump it up to 128GB with a 64GB microSD card (unfortunately the device doesn't support using a 128GB card).
Those of you who were watching the S5 with great interest, will be happy to know that the fingerprint scanner and heart rate monitor are now included in the Note.
For anybody who didn't like the unsightly USB 3.0 connector found on the Note 3, Samsung has moved back to USB 2.0 on this new phone –it seems hardly anybody took advantage of the higher speeds, so the manufacturer went with form over function in this area.
Gear S Smartwatch
Samsung has been playing in the wearables market for a while now, with the latest entry being the Gear S. It is larger than most other smartwatches, with a curved 2-inch AMOLED screen that features a 480×360 pixel resolution. Powered by a 1GHz processor and backed by 512MB of RAM, the Gear S runs Tizen capably. There are a few gadgets and gizmos of course, with a GPS sensor, accelerometer, gyroscope, UV detector, barometer, and heart rate monitor.
Meant to be a compliment to a smartphone, the Gear S can function on its own as well –running many of its own apps and even featuring a QWERTY touch keyboard (which can only be described as awkward).
Gear VR Headset
Capitalizing on the virtual reality excitement in the tech marketplace these days, Samsung has announced the Gear VR headset. It isn't a standalone product, with no CPU of its own –but it does feature the Galaxy Note 4's quad HD display to deliver impressive and immersive graphics.
It looks a little old-school, basically looking like a large plastic rectangle when placed over your eyes –making me wonder why they wouldn't just release a cradle style holster so any of the Note smartphones could function as this device.
There isn't much in the way of content available for this headset just yet –but stay tuned, the more this technology is implemented, the more developers will create titles for it.
The one way Samsung failed at this event is that they didn't tell us exactly what these new toys will cost us, or when exactly we can get our hands on them (other than saying 'in October'). This is an area where Apple tends to excel, letting all of their announcements finish with answers to the who/what/when/where/why/how much questions we are dying to ask.
Jillian Koskie is an experienced software developer, content writer, project manager and usability design expert. With over 17 years in these roles, Jillian has enjoyed applying her skill-set to assist clients and users across a wide variety of sectors including: legal, health, and financial services. Combining these professional opportunities with a love of technology, Jillian is pleased to contribute articles, opinions, and advice to numerous news outlets, websites, and publications.