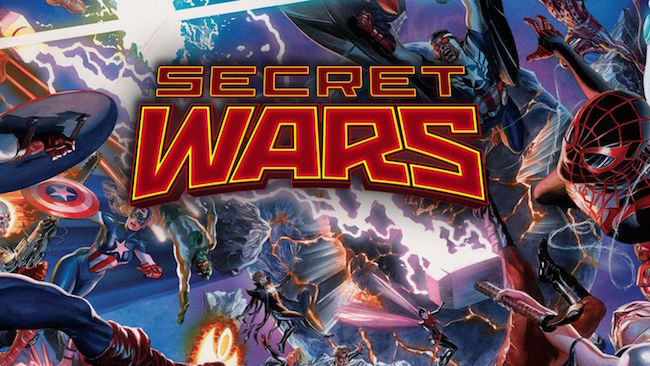 Announcements made at this year's Secret Wars comic event brought an official end to the complex and sophisticated Marvel Universe (video coverage of the kick-off event is linked below so you can see for yourself). Once crowned the kinds of continuity, Marvel intends to apply almost 60-years of lessons-learned to a fresh universe (while trying desperately not to alienate die-hard fans of the franchise).
Instead of being an update on the original Secret Wars released in the mid 1980's (within which, a variety of heroes and villains came together from universes near and far to battle each other), the plan appears to be a mash-up intended to bring all universes into one: Battleworld.
The good news? We don't have to feign amnesia for the 616-universe. All of that history remains in tact, delightfully free from the complications and confines of current storylines.
The bad news? Marvel has confirmed the slaughter of at least a few beloved characters (though Marvel Editor-in-Chief Axel Alonso also promised that other heroes will survive and thrive… or even see resurrection). Trying to anticipate who will remain is a guessing-game at this point, but it seems reasonable to assume that Captain America will make the cut ahead of Howard the Duck.
Three sets of comics will get things started:
Secret Wars: Last Days – These titles will address what the characters from the Marvel Universe have planned for their final days before the start of Secret Wars.

Secret Wars: Battleworld – If you want the full story, Battleworld is set to deliver a much-needed overview. Marvel Editor-in-Chief promises us answers to the questions already keeping us on the edge of our seats: "Who polices Battleworld? How do the various domains interact? What happens when those domains go to war? What strange, never-before-seen creatures inhabit this world? What familiar faces will make appearances?"

Secret Wars: Warzones – Once you are ready to dig a little deeper, Warzones will deliver stories of the individual nations found in Battleworld… with a teasers that will offer a glimpse of the future.
Think of Secret Wars as a means for Marvel to do some streamlining and restructuring –but certainly not simplifying. An encyclopedic knowledge of their publishing history may be a value-add here, but in a world filled with bottom lines it seems wise to capitalize on new-comers who may have only hopped on board after enjoying Marvel's highly-successful feature films.
If this all sounds a little familiar, DC tried a similar reboot of their universe called "The New 52" that combined bits and pieces of their existing material into a fresh product –though hopefully Marvel has more success maintaining interest beyond the initial launch excitement.
We don't have long to wait now, with the first issue (written by Jonathan Hickman with art by Esad Ribic) readying for launch on Free Comic Book Day in May.
Jillian Koskie is an experienced software developer, content writer, project manager and usability design expert. With over 17 years in these roles, Jillian has enjoyed applying her skill-set to assist clients and users across a wide variety of sectors including: legal, health, and financial services. Combining these professional opportunities with a love of technology, Jillian is pleased to contribute articles, opinions, and advice to numerous news outlets, websites, and publications.