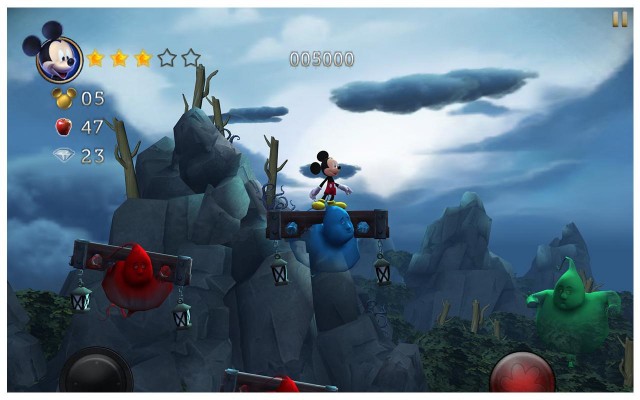 Castle of Illusion Starring Mickey Mouse is definitely not the kind of game you think of when your mind goes to Disney. Sure it includes Mickey Mouse and it's true that he's doing his best to rescue Minnie from the evil witch Mizrabel; in this game he is doing it through a rather dark and ominous setting: the Castle of Illusions. Described by Sega as a 'reimagining' of their classic Sega Genesis title, players can expect to enjoy pretty amazing 3D graphics (over the old 2D sprites seen in the original).
Despite the inclusion of Mickey Mouse as the star, this really isn't a game meant for children. Filled with hidden challenges, exciting costumes, powerful minions and the Disney-trademark world of wonder, Castle of Illusion forces you to solve puzzles among "rebellion toys" and "mazes of living books".
You can grab Castle of Illusion Starring Mickey Mouse from Google Play for $9.99USD –a price that may seem a little steep (to those of you who don't value nostalgia), but it does mean that you will not be faced with countless in-app purchases as you go along.
Jillian Koskie is an experienced software developer, content writer, project manager and usability design expert. With over 17 years in these roles, Jillian has enjoyed applying her skill-set to assist clients and users across a wide variety of sectors including: legal, health, and financial services. Combining these professional opportunities with a love of technology, Jillian is pleased to contribute articles, opinions, and advice to numerous news outlets, websites, and publications.