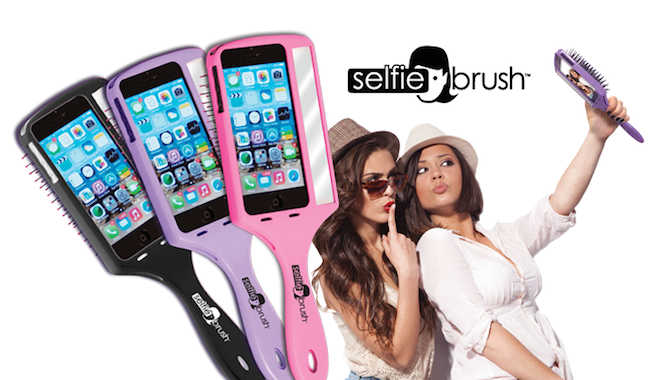 At the risk of dating myself a little bit here, I remember watching Saturday Night Live many years ago when they began airing their television commercial parodies. The commercials were always advertising a product that was overly ridiculous… but just realistic enough that you were left wondering for a few moments whether they were legitimate. When taking a look at the Selfie Brush iPhone case, feelings of skepticism (and sadness for the direction society seems to be taking) are perfectly natural.
When the iPhone case is described by the designer as 'the brush that has everyone talking', it may seem like a clever pun (that probably goes over the heads of most people that would be shopping for this kind of thing). It may also raise a number of questions, not the least of which being: when is the last time you wished you had a smartphone lodged inside your huge rubber hairbrush?

It may be easy to find. It may be the perfect social media tool. It may also be a brush that gives you professional results. It's also idiotic (and I dare you to use one in front of me).
After reading about how the Selfie Brush promises to prep for perfect photographs by adding volume to my luscious locks while also giving me the perfect angle by using the brush handle to hold my smartphone above eye level, I've started to wonder how I have managed to live this long without one.
Available for around $25 USD, it's just cheap enough that I'm tempted to buy a few as gag gifts –but I refuse to contributed to any success this product sees.
Jillian Koskie is an experienced software developer, content writer, project manager and usability design expert. With over 17 years in these roles, Jillian has enjoyed applying her skill-set to assist clients and users across a wide variety of sectors including: legal, health, and financial services. Combining these professional opportunities with a love of technology, Jillian is pleased to contribute articles, opinions, and advice to numerous news outlets, websites, and publications.