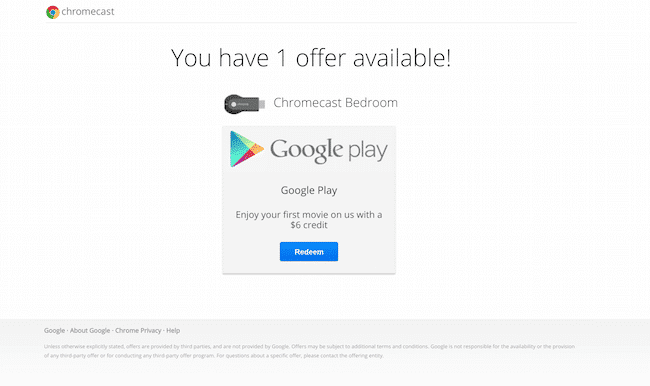 Planning a quiet night in for Valentine's Day? Thinking of renting a movie? Save a little of your hard-earned money and get those extra toppings on the pizza you order by using a $6 credit from Google exclusively for Chromecast users. Not a fan of movies? Use the credit to purchase something else from the Play Store (nothing says romance like a few extra bonuses in Candy Crush).
It may seem a little strange for Google to give away something for nothing, but it makes excellent sense –get users in, get them thinking about the Play Store as their go-to source for entertainment, show them how easy it is… all while leaving a 'no cost' pleasant taste for everybody. Let's just hope it works as advertised –if the process doesn't work or feels tedious, the opposite effect will take place.
Visit Google's Chromecast Offers website if you want to find out for sure whether you are eligible for this credit. When you check, note that you have to be connected to the same network as your Chromecast device.
Jillian Koskie is an experienced software developer, content writer, project manager and usability design expert. With over 17 years in these roles, Jillian has enjoyed applying her skill-set to assist clients and users across a wide variety of sectors including: legal, health, and financial services. Combining these professional opportunities with a love of technology, Jillian is pleased to contribute articles, opinions, and advice to numerous news outlets, websites, and publications.