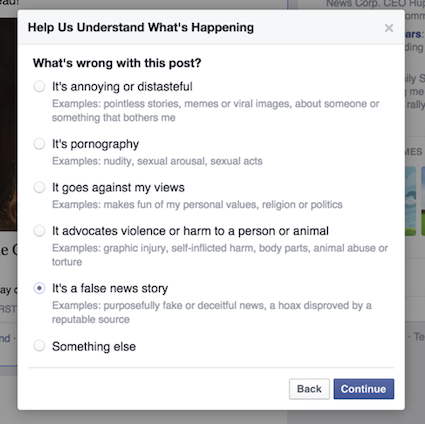 Please brace yourself, I have a few truths to reveal… and they may come as a surprise to many of you (if my Facebook news feed is to be believed). It doesn't matter how many times you share the post with all of your friends, Costco will not give you a free $500 gift card. Nobody has a stash of yet-to-be-released iPhone 8.5's that they are just dying to give away to 200 lucky Facebook users who like and share their post. A sick child will not get a new heart if you share their heart-string-pulling photograph. I am also begging every single one of you to do a single Google search to validate any news you plan to share about a celebrity that has (supposedly) passed away.
Thankfully, Facebook understands the pain many of us feel when we see our friends falling for these ridiculous hoaxes. A feature being added to the site will allow those of us who do our research to flag a post as being false news (as well as a few other designations such as being pornographic, advocating violence, annoying, or distasteful); doing so will remove the post from your feed, so you can forget it ever happened. The more flags a post receives, the less it will be seen in general (though Facebook will never actually delete a post).
Of course, there is a downside to this added moderation: idiots and bullies get the same functionality as everybody else.
At least it's a step in the right direction, and one I suspect will be fine-tuned over time. My suggestion some time ago was that Facebook force users to click a disclaimer before sharing or adding content that begs for confirmation that the content contained within the post was fact-checked first… and if not, accept that they risk eyerolls and sighs of disbelief from their friends.
Now that Facebook has potentially solved this problem, I'd really appreciate it if they got to work on some kind of alert system that would let people know that their mothers will not think they aren't loved if you stop sharing those sappy greeting card poems within 10 seconds of reading it… and maybe give them a heads up that I do still love them as a friend even though I'm unwilling to describe in a single word the way we met as a comment on their status.