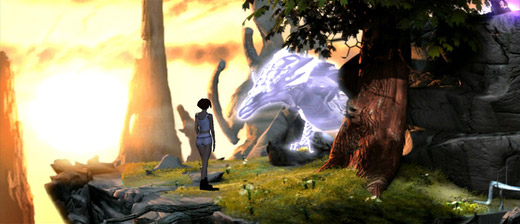 If you like games that are equal parts book, movie, and game… The Longest Journey is something to be excited about. Described as being an interactive and beautifully created universe, The Longest Journey is told from the perspective of a young art student named April Ryan who possesses the power to pass between worlds (like others are able to pass between being awake and asleep).
Feel free to get yourself addicted to this franchise. Developed by Ragnar Tornquist and his team at development house, Red Thread Games, The Longest Journey: Dreamfall Chapters sequel was recently brought to computer and console gaming platforms by way of a tremendously successful Kickstarter campaign (they set out to raise $850,000, and ended up with over $1.5 million) –so chances are good that mobile games won't have seen the last of these characters!
The Longest Journey Remastered has already been available for iOS users in New Zealand with an $8.99 price-tag, but there are plans for a North American release very soon. If you are ready for a real iOS gaming adventure, prepare to purchase and download The Longest Journey Remastered from the Apple App Store.
Jillian Koskie is an experienced software developer, content writer, project manager and usability design expert. With over 17 years in these roles, Jillian has enjoyed applying her skill-set to assist clients and users across a wide variety of sectors including: legal, health, and financial services. Combining these professional opportunities with a love of technology, Jillian is pleased to contribute articles, opinions, and advice to numerous news outlets, websites, and publications.