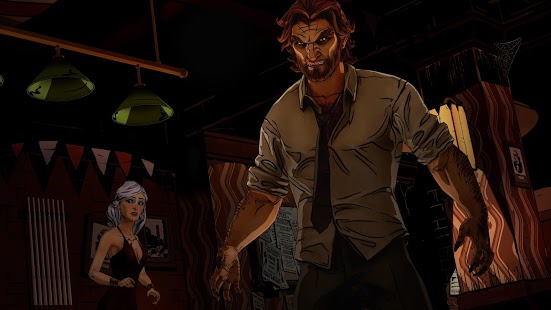 Telltale Games brought out The Wolf Among Us to Android over four months ago, but there was a catch: it was only available through the Amazon Appstore. Fortunately for Android users who choose not to deal with the Appstore, the game is no longer exclusive to Amazon. Built by the creators of The Walking Dead, The Wolf Among Us stars Bigby Wolf (described as the big and bad protagonist who is as much a man as he is a werewolf) who players can control by clicking on items and navigating conversations.
Playing the game reminds me of the old school Choose Your Own Adventure books, where the story is adapted based on the decisions you make. The graphics are really well done, but I do have a few complaints: much of the text on the screen is very low contrast (often seen in dark purples and reds against a dark or black background) and I found it very difficult to read quickly, the pause button is difficult to find in the top right of the screen, the dialogue is a little wordy and there are a lot of accents that get old fast, and apparently 'silence is a valid option' –so if you hesitate before making a decision, you can lose your opportunity!
Despite these downsides, the game itself is pretty entertaining and it's worth checking out –especially if you enjoy dark storylines that encourage your participation.
If a little graphic violence will not scare you off, download The Wolf Among Us for your Android devices. The first episode is included, but you can purchase additional parts later if you find yourself immersed.
Jillian Koskie is an experienced software developer, content writer, project manager and usability design expert. With over 17 years in these roles, Jillian has enjoyed applying her skill-set to assist clients and users across a wide variety of sectors including: legal, health, and financial services. Combining these professional opportunities with a love of technology, Jillian is pleased to contribute articles, opinions, and advice to numerous news outlets, websites, and publications.