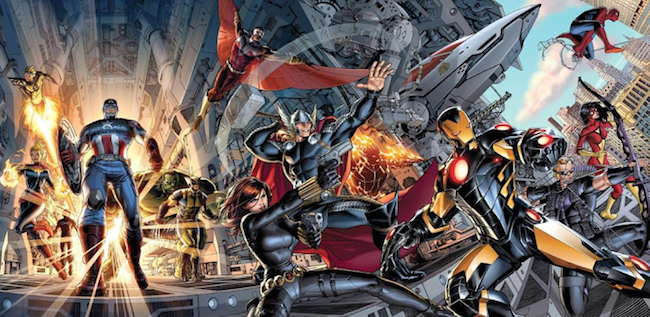 You may be hesitant to load up your favourite comics using a digital reader, but the truth is that it's not as bad as you think. While it lacks a certain charm that comes from physically flipping through an issue, it's certainly convenient –and you needn't worry about the oils from your skin or creases in the pages. Choosing the right comic reader for your Android device can be a little intimidating, with the incredible selection to choose from… so let me guide you through my top 5 choices.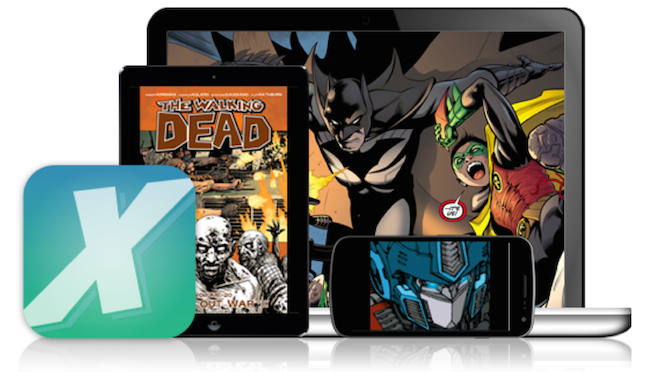 Comics by ComiXology – This is my go-to reader, with a library of more than 50,000 digital comics and graphic novels. It's easy to buy issues in-app, with everything available the same day as with traditional print releases. The user interface is incredibly versatile, with easy scanning and zooming as you flip between pages… and the platform is cloud-based (which means that your progress and collection is automatically synced across all of your devices). There is a downside of course –this is a closed app, which means only the material gathered using the app can be read using it.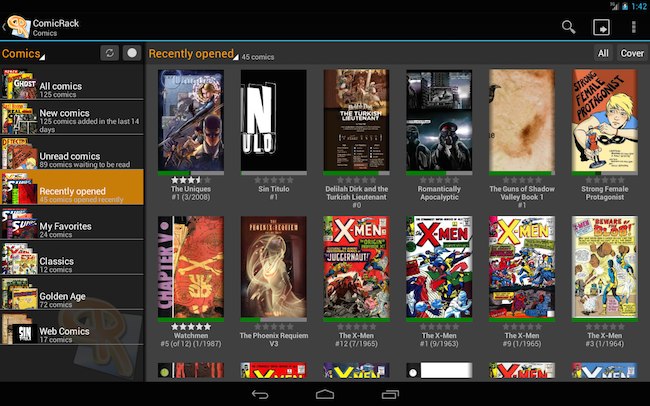 ComicRack Free – It may have started as a desktop comic reader, but ComicRack has made a good name for itself in the mobile marketplace as well. The interface is simple and works well, but the strength of this app comes from the fantastic library management. If you have material in a variety of formats, look no further –CBR and CBZ are supported natively, but in conjunction with the desktop app you can add CB7, CBT, PDF, DJVU and WebComics formats are on the list.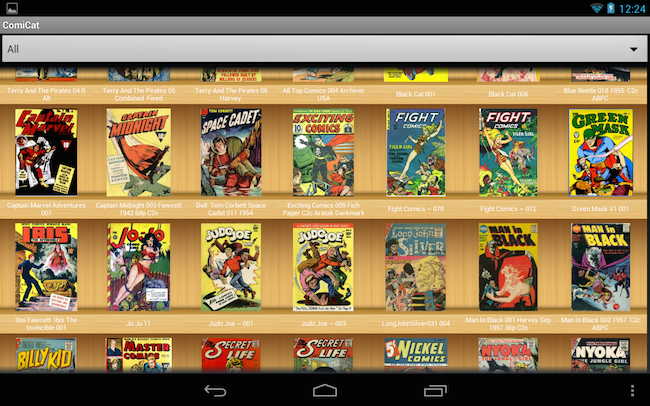 ComiCat (Comic Reader/Viewer) – Before you read too much further, know that ComiCat isn't free, but it's really worth every penny of the $3.49 price-tag. While it's try that it really doesn't offer more (at the core) than competitive free apps like ComicRack Free, it does have a lot of refinement that you'd expect from a commercial product. It's fast and versatile, and packed with extra nice-to-have features: with a single tap you can scan your device for compatible content (including files on your device storage, download folder, SD Card, or cloud), adjust screen brightness in-app, use password protection, auto split two-page scans and auto crop margins, take bookmarks further by remembering your reading location, and more!
Astonishing Comic Reader – One of the newer comic readers out there, Astonishing has the beauty of being built exclusively with mobile in mind. All of the standard features apply, including simple navigation and powerful zoom –along with being able to generate beautiful wallpapers and boasting Chromecast support. Search is another area where this reader shines, with intelligent suggestions that help you to round out your collection with related comics based on your existing comic roll. Even more exciting is the lack of ads that go along with the free price-tag.
Web Comic Reader for Android – Comics have reached a whole new genre with their emergence on the web without an in-print counterpart. We all have our favourites, whether you wait patiently for the next XKCD or you can't help but giggle reading Cyanide and Happiness. You can certainly navigate your way around the Internet in a web browser, but that is so 10-years ago! Thanks to Web Comic Reader for Android you can keep track of all your favourite web-based strips while also saving your place (so you can read back from the beginning… which you know is on your to-do list).
Jillian Koskie is an experienced software developer, content writer, project manager and usability design expert. With over 17 years in these roles, Jillian has enjoyed applying her skill-set to assist clients and users across a wide variety of sectors including: legal, health, and financial services. Combining these professional opportunities with a love of technology, Jillian is pleased to contribute articles, opinions, and advice to numerous news outlets, websites, and publications.