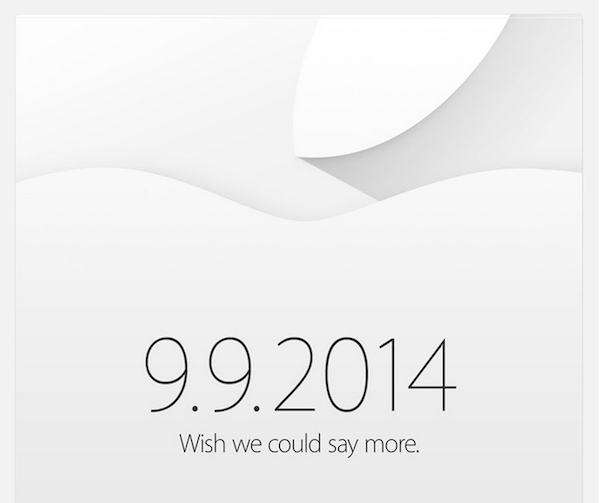 These days it seems like America's favourite passtime isn't baseball, but rather it revolves around speculating as to what Apple will be releasing at their next big event. Generating hype is certainly something that Apple knows how to do, and their event next week is no exception. We will all be tuned in closely on September 9, 2014 –but in the meantime, there are a few decent guesses as to what Apple has in store for us.
iPhone 6
Every fall there is a new iPhone. Even if it's a lesser 'S' upgrade, we've always enjoyed a new device around this time of year. With the 5S coming to us in the fall of 2013, a more significant move to an iPhone 6 is all that makes sense –and quite frankly, I am not sure consumers would accept anything less.
So what's it going to look like? Probably about the same as it already does, but with a 4.7″ screen. It's possible Apple will have a variety of sizes available: 4″, 4.7″ and a super-sized 5.5″ option –but this array doesn't make sense with Apple's existing support structure and design philosophy. Having something a little larger makes sense and would allow them to compete with the bigger devices being offered by the likes of Samsung, LG, HTC, and Sony (but if there are more than 2 size options available, I'll be losing more than a few betting pools I'm participating in).
Other than the size difference, we're going to see the usual cast of characters as far as updates are concerned: faster processor, better camera, possibly lighter, maybe a battery with more juice… but those aren't things people tend to really care much about. It is probably a good bet that there will be a 128GB storage option, bringing into question whether they will still bother with a 16GB model or if the low end will start at 32GB.
iWatch
There are two schools of thought when it comes to the iWatch: (1) Apple can't afford to stay out of the fitness wearables market and (2) Apple shouldn't bother trying to compete, and rather they should work with major fitness wearable manufacturers to turn the iPhone into a functional portal for all of the available options. If Apple doesn't have something for this market at the event next week, it would likely be in their best interests to say they have no intention of competing in that arena; rather than stating that they aren't ready yet.
There are a lot of important people out there that would say that having a credible iWatch style device from Apple is the most important tech product due out this year. The problem is, what would it look like? Apple values function equally with form, and they have a history of releasing a minimum number of design options for a device (a few colours, perhaps). What this means is that whatever they come out with has to appeal equally to the teenage masses as it does to the Rolex-wearing businessmen. It needs to look as good on a professional woman as it does on the athlete or low-budget university student.
So will they release an iWatch? I hope not. Will they release some kind of wearable sensor that can be mounted in any number of holsters (be them rings, watch-bands, necklaces, belt clips, or whathaveyou)? This seems more likely and appealing.
But I digress.
The point is, especially with the new HealthKit app, Apple is trying to become the go-to place for all of your health information. Whatever makes it easier to record and collate this information, is exactly what Apple needs to make… this means it has to be more than just a step-counter. What about having a heart-rate monitor? Blood pressure monitor? Glucose monitor? It just doesn't make good sense for Apple to release yet another rubber band when there are dozens of credible and sensible options for sale already.
Software
At the WWDC this past June, Apple told us about iOS 8 and OS X 10.10 Yosemite. Both operating systems have been actively in beta since that point and it stands to reason the are nearing a full release. If there is new hardware, shipping a device with anything other than the latest operating system wouldn't make sense at this point.
Odds and Sods
There's more we want of course. We want updated iPads (with fingerprint sensors), we want new Mac Minis (with updated specs)… there were recent improvements to the MacBook line-up, but heck, we'd like updated models of those too! All of these things are pretty unlikely at this event –not only are they going to be short on time to discuss them, they won't want to put the new iPhone in the shadow of another device. It may be we're seeing this sized event in September to keep room for an October launch of these 'lesser' updates just prior to the holiday shopping season… but that's just a shot in the dark.
Obviously, it's all about making educated guesses at this point… so until then, try to stay balanced on the edge of your seat.
Jillian Koskie is an experienced software developer, content writer, project manager and usability design expert. With over 17 years in these roles, Jillian has enjoyed applying her skill-set to assist clients and users across a wide variety of sectors including: legal, health, and financial services. Combining these professional opportunities with a love of technology, Jillian is pleased to contribute articles, opinions, and advice to numerous news outlets, websites, and publications.