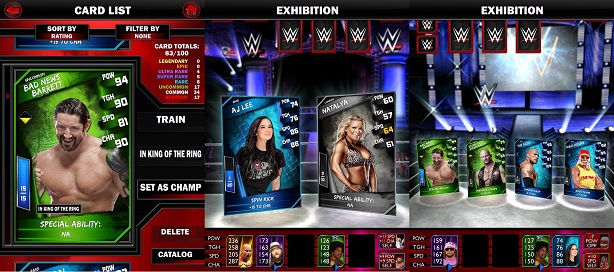 2K Games and WWE have teamed up together to create WWE Supercard, a larger-than-life game for your Android device! Filled with all of your favourite WWE Superstars, Legends, and Divas, this new game brings the excitement of wrestling to mobile gaming.
To play WWE Supercard, you must collect card packs (either by earning them in online matches or purchasing them directly) and use the players contained within to build your dream team. There are over 400 cards available, with seven different rarity levels –though it has been announced that there will be regular updates to the superstars available. Once your winning roster is built, play against other players with single athletes, tag teams, or five-person teams.
As an added incentive, the more you participate the better your rankings and rewards!
If you like fast-paced sports-themed games, give WWE Supercard for Android a try. The game is free to install, but you may find yourself making purchases in-app when you are looking to get new card packs quickly.
Jillian Koskie is an experienced software developer, content writer, project manager and usability design expert. With over 17 years in these roles, Jillian has enjoyed applying her skill-set to assist clients and users across a wide variety of sectors including: legal, health, and financial services. Combining these professional opportunities with a love of technology, Jillian is pleased to contribute articles, opinions, and advice to numerous news outlets, websites, and publications.