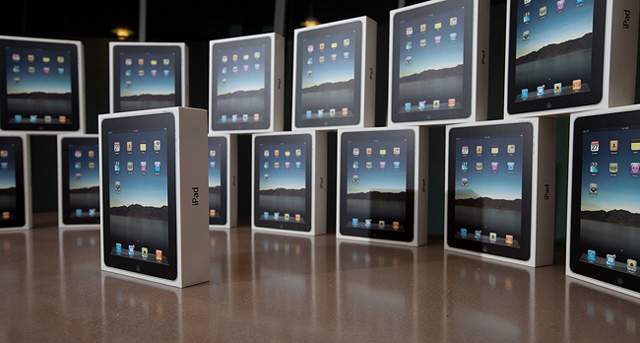 As per the latest news coming in, the mythical iPad has begun its journey towards Europe with the tracking information of many of the iPad customers based in Italy and Germany now flashing the 'shipped' information. While this has come as a welcome relief to them, this should also add to the glee of the hundreds and thousands of others waiting in the wings to have their much awaited iPads finally delivered.
Meanwhile, demand for the iPad continues to be strong in the US with almost 200,000 iPads literally flying off the shelves from Apple stores throughout America. At this rate, it has already overtaken the Mac and is only behind the 3G iPhone that is being lapped up at around 246,000 units a week. Still, a survey revealed there is one out of every five consumers in the US longing for the iPad.
Apple has for now decided to launch the iPad in nine countries outside the United States, which includes Australia, Canada, France, Germany, Italy, Japan, Spain, Switzerland and the UK and started taking pre-orders on the 10th of May to this effect. For them, Friday, the 28th of May is going to be the D-Day when the iPad will begin to be available to them or they may come over to an Apple retail store for picking up the device.
So, if you have pre-ordered the iPad, you will only have to wait till the 28th. And if you haven't and wish to pick up one, well, you are advised to be at an Apple store early enough and hope for the best. Demand for the gadget has been far outstripping supply and there is currently a waiting period of about 2 weeks for the device in the US.
Also, according the Apple sources, the countries next in line to receive the iPad are Austria, Belgium, Hong Kong, Ireland, Luxembourg, Mexico, Netherlands, New Zealand and Singapore though consumers there will have to wait till July.
Keep watching for more interesting updates from the Tablet/Slate segment as well as the newest e-reader news.
Also, you would do good to have a look at our Good E-Reader Magazine. Available once a month and for just $1.99, its a real bargain.
Sovan Mandal is the senior tablet and tech corespondent for goodereader.com. He brings a international approach to news that is not just applicable to the North American market, but also Asia, India, Europe and others. Sovy brings his own writing flavor to the website and is interested in Science Fiction, Technology and Writing. Any questions, send an email