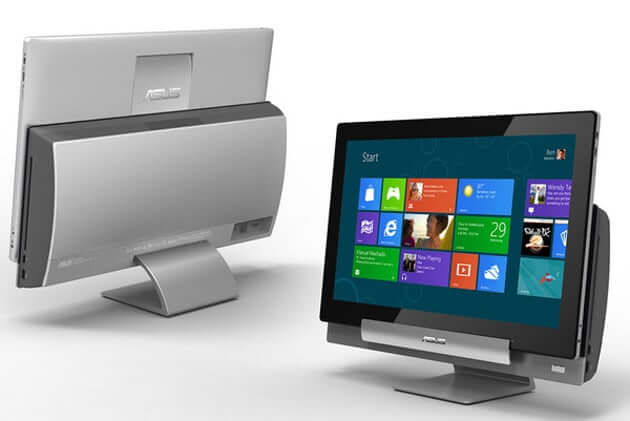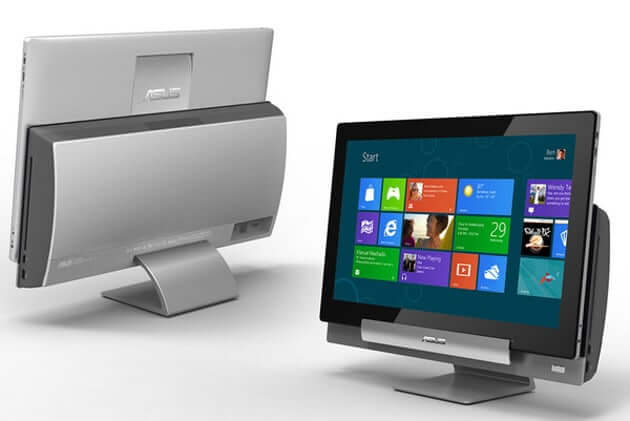 Asus is going totally ballistic, offering different devices running Windows 8 at the ongoing Computex event. Asus wants to have its presence felt in all forms of computing based on the Windows 8 platform, starting from 10.1 inch sized tablet PCs in the form of Tablet 600 and Tablet 810 to the massive 18.4 inch sized Transformer AiO all-in-one device that also doubles up as a tablet PC. However, in a move which should appease Android lovers, Asus isn't giving up on Android and the AiO (All in One) dual OS device, which has the latest Android ICS and Window 8.
The Transformer AiO boots into Windows by default. A push of a button is all that is required to boot the gadget into Android ICS. The screen is also wireless and takes input from the keyboard even when detached from the PC base. The gadget otherwise also has multiple USB 3.0 port, an ethernet port, and an optical drive. The display is LED backlit and is 10 point multi-touch enabled, though Asus isn't revealing the resolution just yet.
Also, the Taiwanese manufacturer is taking its Transformer adage to greater heights with the AiO. For what started with a 10.1 inch sized Transformer device that doubled up as a netbook/laptop when attached to a keypad, and has evolved into the AiO where the display (once detached from the docking base) behaves as a tablet unit. It's too large to be easily carried anywhere, and it is a matter of debate as to how useful a tablet that big will be.
Details of the gadget have not been declared by Asus as yet, and that includes price as well as the processor that runs the gadget. However, for the latter, an Intel Ivy bridge chip seems to be the most likely candidate. Release of the gadget can be assumed to be at the end of the year, given that Windows 8 OS won't be available before that.
via the verge

Sovan Mandal is the senior tablet and tech corespondent for goodereader.com. He brings a international approach to news that is not just applicable to the North American market, but also Asia, India, Europe and others. Sovy brings his own writing flavor to the website and is interested in Science Fiction, Technology and Writing. Any questions, send an email