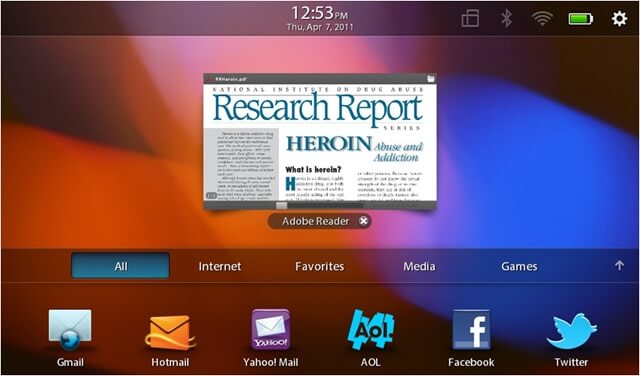 The Blackberry Playbook is a solid tablet and generally you can find one now for around $199.99. Many people not only want to play games and be productive, but to read as well. The App World is rather spartan and there aren't many ebook reading programs available. Do not despair! Here at Good e-Reader we are giving you the scoop on the best ones available.
Kindle Cloud Reader
Amazon promised an official Playbook Reading App, but it never materialized. The closest you are going to get is to use the new Cloud Reader that the company released late last year. The purpose of this cloud reader is to give you the HTML5 treatment to buy and read books online. If you have ever purchased a Kindle Book before, it is available to read under this platform. No dictionary, notes, or highlighting are available, but it does have three theme options, font resizing, and bookmarking.
Simply open up your Blackberry Playbook internet browser and visit https://read.amazon.com/
Book Reader
Book Reader for EPUB and Kindle Book is one of the leading ebook apps in the App World marketplace. The developer is very active on the Crackberry Forums and normally is very good at listening to feedback and putting in new features. Most people agree that this app has the most professional looking interface of the indie projects.
One of the great aspects of this program is that it will read EPUB and MOBI books that are DRM-Free! It also reads a multitude of other formats such as; AZW, PDB, PRC, FB2, FB.ZIP, TXT, or CHM . The premise of this app is to load in your books that you have downloaded from various places on the internet. Google Books, Project Gutenberg, and many other websites offer free books with no digital-rights-management.
This app costs $0.99 and is available here http://appworld.blackberry.com/webstore/content/50823?lang=en
PlayEpub
This is another great indie program that is at the top of the charts of EPUB Book reading. This app does not read any other formats besides EPUB, so it is not as versatile as Book Reader. It carries core features, such as reading with a book-like style pagination, tap screen for next/previous page, and swipe right/left for next/previous chapter. It also auto-rotates the book from landscape to portrait mode when you switch the orientation on your Playbook. It also allows a fair amount of flexibility in crafting your reading experience with the ability to customize the screen for your eyes: font, size and line separation; brightness; and day/night/sepia mode. Finally, you can send stuff to Twitter and Facebook, like sharing specific quotes or book passages.
You can download the app and check out the entire feature list by visiting http://playepub.com/
Kobo Reader for Playbook
Kobo is one of the few mainstream companies with any sort of presence on the Blackberry Playbook. It is a fully featured program that allows you to buy and read books. There are around 2.6 million books available on their system that are both free and paid, so there is no shortage of content. You can also subscribe to both magazines and newspapers in Canada and the USA.
There are various ways this app is flexible in order to craft your own ebook experience. If you are reading at night, you can switch it to that specific mode which gives you a black background and white text to make it easier on the eyes. There are also tons of font options to change the size and the actual typeface.
This is a totally free download, but it does cost money to buy most books. Luckily, there are around a million free ones. Check it out here http://appworld.blackberry.com/webstore/content/40745?lang=en
Adobe Reader
If you are in the business of reading textbooks or complex PDF files, this is as good as it gets. This program was written officially by Adobe, so you will get most of the options that are you used to on the PC. Mainly the premise of this app is allowing you the freedom to put your own books on the Playbook and use this app to read them, fairly dead simple.
Download it for free http://appworld.blackberry.com/webstore/content/46338?lang=en
Michael Kozlowski is the Editor in Chief of Good e-Reader. He has been writing about audiobooks and e-readers for the past ten years. His articles have been picked up by major and local news sources and websites such as the CNET, Engadget, Huffington Post and Verge.