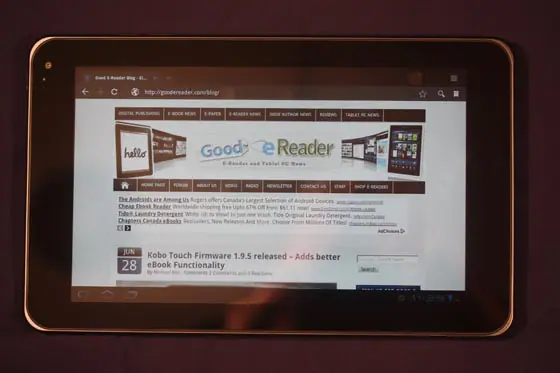 The LG G-Slate first debuted quietly at CES in Las Vegas for about an hour and then went into hiding. The tablet was just released last month and the main selling point is that it is the worlds first 3D Tablet PC. Is this just a gimmick or is there more than meets the eye?
Hardware
The LG G-Slate or LG Optimus PAD or known as the T-Mobile G-Slate in its hardware form is much akin the Motorola Xoom that was released earlier in the year. It features a 8.9 capacitive touchscreen display with a resolution of 1280×800. Underneath the hood it is running a NVIDIA 1GHz dual-core Tegra 2 processor and has 32 GB of memory. One of the drawbacks right away is that there is no expandable memory via MicroSD. So if you are one that loads tons of media content on your device you might want to look at some various cloud based storage solutions.
The internet browsing on this device is very fast via WIFI! I was very impressed on page load speed and it does come with a SIM Card slot for 3G and T-Mobile's 4G network. You can slip the top part of the back off in order to put in your SIM card. I found the internet browsing experience very solid and websites load faster than the iPad 2 and Motorola Xoom. As well, it has Bluetooth and GPS for you to take advantage of.
There are many different cameras on the T-Mobile G-Slate! You have a front facing 2 MP version used for video conferencing or web based chatting. Heck, it will absolutely do an OK job for taking candid profile pictures of you to upload to Facebook! On the rear of the unit it features dual 5 MP cameras along with a LED Flash. The back cameras are the essence of this tablet because they are used to shoot video or pictures in pure 3D! There are many software based options to shoot in different versions of 3D, depending on what kind of device you will be exporting it to. Speaking of 3D, the device is bundled with a cheap pair of Red/Blue glasses so you can watch right away what you shoot. The one drawback is that when you look at what you shoot via the glasses, you don't get to see color.
The build quality is amazing on this unit and it feels like an expensive piece of technology. Really, I found the back of the unit very impressive! The dual cameras on the back really contribute to an aesthetically pleasing sight! It also has a neat chrome bar that wraps around the back with the Google logo, making it comparable to the Google Nexus 1 in terms how it looks.
There are various ports spread around the device such as MicroUSB and HDMI on the bottom edge, as well as contact points for the optional docking station, and a 3.5mm headphone jack on the left edge. Volume controls and a power/standby button are the last of the physical keys. There is even a few mic ports spread around the device for audio. All of the other buttons are software based which makes for a simpler interface.
The LG G-Slate or T-Mobile G-Slate has a built in accelerometer and gyroscope in order to switch from landscape to portrait mode. It quickly switches from both perspectives very quickly, which made me quite pleased. It also features a ambient light sensor in order to adjust the brightness depending on your surrounding environment.
Finally, the dimensions are around 9.6 x 5.88 x 0.5 inches and 22 oz. I found that in direct comparison with the Motorola Xoom, the unit is narrower, lighter, and a little shorter than the XOOM, but not really thinner.
Software
The T-Mobile G-Slate is running the latest edition of the Google Android operating system 3.0.1. It seems, with the latest updates, many of the common bugs have been worked out.
Much like the Xoom, you are opening the G-Slate to discover a rudimentary Google Android experience with the Android Market to get most of your applications. It is bundled with EA Need for Speed and a 3D version of Google Maps for the glasses that come with the unit. You also get access to a T-Mobile live streaming TV station with 1 month of free premium subscription access. You can get TV Shows, Kids Shows, and many other episodes.
As far as applications go, you of course have access to Google Books and the Zinio Reader. The T-Mobile G-Slate does not come with Adobe Flash right out of the box, but it does have a shortcut to the latest version housed on the Google Android Market. We have no idea why it does not just come pre-loaded.
Finally, there is a dedicated 3D Player that is used to playback video that you have shot or imported.

What is this whole 3D thing?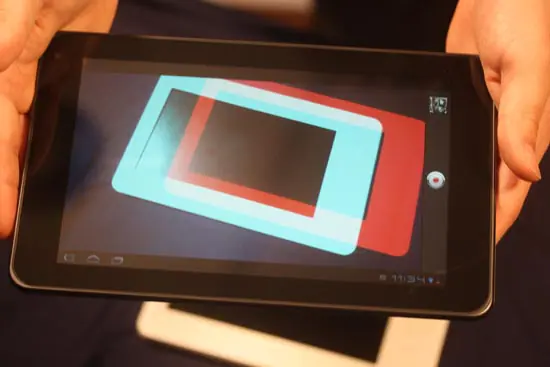 The T-Mobile G-Slate is the worlds first tablet to record and view content in 3D. It takes advantage of the rear facing 5 MP dual cameras to record. Regarding recording functions of the device, first of all you have 4 different settings to employ while you're recording. You can do side by side, anaglyph, mixed, and single. Mixed displays the mixture of the left and right camera preview images into one image. Anaglyph is a mode that displays and captures video to be previewed with Red-Cyan Glasses. The single mode is used for taking non 3D video recording and side by side mode allows you to preview both images separately.
The G-Slate comes with 3D glasses so you can watch 3D video, including 3D movies if you were to copy them to your slate via the Micro USB cable from your computer.
As an e-Reader
The LG G-Slate or Optimus Pad comes loaded with two e-reader applications, Google Books and Zinio. Google Books is the latest venture by Google to offer an Android based reader with all of the neat page turning and peaking animations found in the Apple iBooks application. The one drawback of the Google Books app is that you cannot load your own books, you can only read books you purchase or download from Google. Zinio Reader is mainly an access portal to mainly newspapers and you have to pay and register directly with them.
Reading on the device with the default apps is kind of nice but i noticed when using Zinio that the magazines looked kind of scanned. They did not have a crisp and vibrant look and I would recommend using a different service for your magazine fixes.
As an e-reader that runs the latest version of Android you have no shortage of solutions in order to start reading right away. You do not have look further then the Google Android Market or other Android App Stores to find E-Reader Apps. I would recommend if you want to do business directly with solid ebook stores you download the Amazon Kindle, Barnes and Noble, Kobo and Sony Android apps. They are all free downloads and allow you to purchase books directly.
If you are the type of person that loves to load your own books on your devices I would recommend Aldiko and FBREADER. They are both free Android applications from the Google Market and allow you to load in your own EPUB books. Since EPUB is the most common form of book on the internet you should not have any trouble finding them to download. If you find yourself downloading a NON EPUB format, you can look at our tutorial on how to convert one book format to another using CALIBRE.
Many people love comics and graphic novels and one of the best comic reader apps out there that let you read in many different formats, including CBR is Droid Comic Viewer.
I liked using my tablet as an e-reader but more importantly for full color magazines, newspapers and comics. The processor is really fast and there is no stuttering when changing pages.
Our Thoughts
This is a great device, expensive but nice! I dig the fact that this is the only mainstream tablet on the market that is capable of viewing and shooting content in 3D! This is the prevalent way this one differs from the Motorola Xoom or other Android 3.0 tablets.
It will be interesting to see with the rising amount of movies out there that are 3D, as well as the odd game here and there, and whether that will be enough to sustain this device over the long term. There is no way that T-Mobile and LG make it easy to consume 3D movies, they just provide you with a way to shoot your own. I doubt the Android Market will have ANY 3D games anytime soon because this is the only gadget that can really do it and it's not that popular yet. It's a catch 22 because you want to play 3D games on here, but since none really exist you cant, which will put off some people.
Spec and hardware wise this unit is comparable to most higher end tablets and it does not disappoint. Exploring the web, loading programs, playing games, and multitasking go off without a hitch. It looks like a slick piece of high end hardware, like I mentioned earlier, and is sure to impress people during a business meeting or on the plane.
If you just straight up buy the G-Slate you are looking at around $799 and can get it on the cheap if you do an exclusive data plan with T-Mobile. It is possible to buy this on EBAY and other gray markets if you live outside the USA.
I really like this one and would highly recommend it. It is the best Android 3.0 tablet PC in the market right now.

Rating: 9/10
[cincopa AwOAArKSlZQT]

Michael Kozlowski has been writing about audiobooks and e-readers for the past twelve years. His articles have been picked up by major and local news sources and websites such as the CBC, CNET, Engadget, Huffington Post and the New York Times. He Lives in Vancouver, British Columbia, Canada.