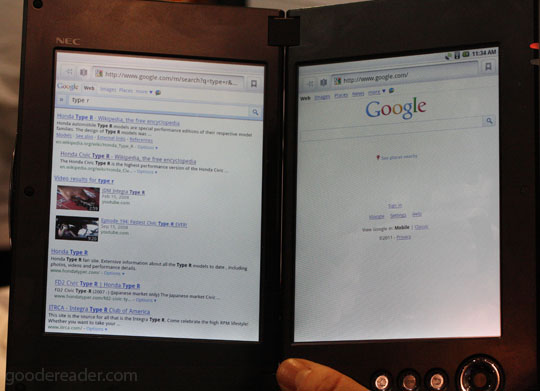 Today at CES 2011 in Las Vegas NEC showed off a high concept tablet PC known as the Cloud Communicator. It is primarily being billed as a student and education learning device that features immersive teaching and learning tools, such as interactive quizes that tabulate high scores to encourage competitiveness in a thought provoking manor.
The NEC Cloud Communicator features two 7 inch touchscreens with a resolution of 800×600 pixels. It runs on the Google Android 2.1 operating system and a 1 GHZ ARM Cortex A8 processor. The company did not mention how much storage it has, as the tablet is a late prototype of the device and will be customized for specific clients, such as schools and universities. It did allow the memory to be expanded via MicroSD card up to 32GB.
Rounding off the hardware specs we have a Mono speaker, headphone jack, GPS and a built in accelerometer, a rear facing 3 MP camera, two USB ports, and video on 720p. The Battery life is around 5 to 6 hours of use and will come with WIFI and optional 3G based on client requests.
What I really like about the device is the ability to surf the internet with the browser extended on both screens, or the keyboard on the bottom screen and the browser on the top. It really is versatile in the way it manages the dual screens, something the Entourage Edge has missed out on. The device mainly interacts via a Stylus, so that means the Cloud Communicator will have a resistive touchscreen technology.
The main content was wrapped around a custom GUI, where the icons were really over-sized to make up for the lack of screen resolution. The demo we saw included videos, and interactive note taking where notes in digital textbooks where shown both on the tablet and a large screen TV. We were told to envision this device being in the hands of the teacher with the students writing a test or quiz on the tablets, and the marks are auto assigned in real time. The highest performing students' results will be visible on the tablet and the TV, with the students' names and how they performed marked by a percentage and corresponding graph charts.
Some of the more interesting features included text on one page, and a video playing on the other page, which might be good for distance learning or your professor making custom lecture notes. Another interesting note-taking feature includes an ebook on one side of the screen and hand written notes on the other side.
Based on the tech demo we saw, and the video below, you can really see some of the potential of this device shining in a classroom. There is no price or release date mentioned, but we were told to look out around Computex for more information.