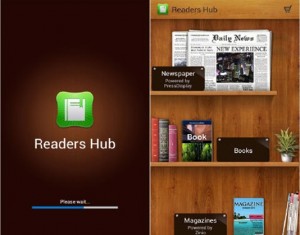 Samsung has updated the seminal Readers Hub app to now support ePub3. The company has also developed its own self-publishing portal, which allows publishers to track, upload, and manage their ebooks. Right now, the app is only available for users on the Readers Hub 2.0, which is preloaded on the Samsung Galaxy Note II. Galaxy S III, Galaxy Note 10.1, and Galaxy Camera.
Searching and navigating the extensive catalog available with Readers Hub 2.0 is now quicker and simpler than before. Its enhanced content recommendation service makes it easy to find the titles that are right for each customer. Once customers have made their choice, all they need to do is open the title and the intuitive interface allows them to customize the viewing experience. They can change the text size, background color, or screen brightness so that it is just right for each individual, no matter when and where they are reading.
Simply touching the screen brings up a menu that allows readers to highlight key passages and annotate their reading. The notes are stored separately for easy reference, and can be easily shared. Readers Hub 2.0 also allows excerpts to be posted and shared from ebooks on individuals' social networks.
Simon Stanford, Vice President, Telecommunications & Networks, Samsung UK and Ireland said: "We are extremely excited to be introducing our second generation Readers Hub to Samsung Galaxy customers. Technology and content have always had a symbiotic relationship, and it's important that cutting-edge devices are matched with cutting-edge technology. The extra features available with Readers Hub 2.0 make reading on the go even more enjoyable than before, whilst easy search functions and compatibility mean that reading from a mobile device has never been so easy."