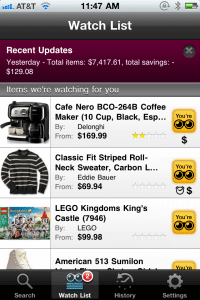 One of the chief complaints that critics of digital reading have is that nothing much has changed about the way we read, despite the advancements in the technology behind it. While their remarks pertain typically to the educational sector, the point is valid. Whether it's on paper or on a screen, reading really hasn't changed much.
But with the advent of digital publishing for periodicals, that is changing. Embedded videos to accompany articles and hyperlinks to further detailed information are allowing magazine and newspaper readers to have an entirely new interactive experience with digital publications for tablets.
Zinio, a leading worldwide platform for stand-alone or subscription digital magazines, announced its partnership today with ShopAdvisor, a portal from evoqu that allows readers to highlight items in the reading material—initially leading blogs and websites, but now expanded to digital magazines—to create wish lists and to make purchases. This feature will allow advertisers and product review pieces to put the actual items at the readers' fingertips, turning readers' favorites magazines into virtual catalogs.
"ShopAdvisor has cracked the code on something that everyone else has failed to do, and which has derailed the deployment of these technologies – the operational complexity," said Rich Maggiotto, CEO of Zinio, in a press release. "By separating the digital content from the buying process, they have elegantly elevated a manual process. Watching a product through Zinio's magazines is the digital equivalent to dog-earing pages on their print counterparts. When a reader clicks on the 'Watch' button in the pop-up store, ShopAdvisor keeps the interest in the product alive for the consumer by providing a shopping service that maintains a link between the product, the magazine they found the product in, and the merchant that fulfills the deal for them."
Once a consumer places an item in his ShopNow Watchlist, he receives updated information when the item becomes available and from where. This feature is especially useful for articles about new products or devices that are only on the horizon, as Watchlist keeps up with the reader's expressed interest.
"Our partnership with Zinio creates a new source of revenue for Zinio and their publisher partners without the tedious manual work of creating affiliate links," said Scott Cooper, CEO of ShopAdvisor, in the release. "ShopAdvisor provides a valuable service to both Zinio's magazine readers, by offering them a natural way to 'shop' a magazine, as well as providing publishers access to a deep set of analytics about the impact of their editorial content and advertisements."
ShopAdvisor's cloud-based service is compatible with iOS and Android devices and is already in place on blogs, media outlet sites, and shopping channels.

Mercy Pilkington is a Senior Editor for Good e-Reader. She is also the CEO and founder of a hybrid publishing and consulting company.