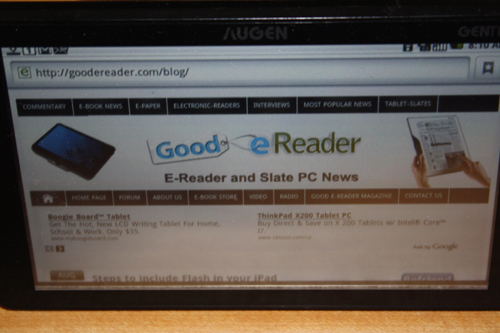 We just picked up the Augen Gentouch78 Android Tablet from K-mart for a sweet $149.00 and it is a very frustrating device.
First of all, Augen never informed Google that they would have integrated Android applications shipped on the device, such as GMAIL, Android Market, and others. Because of this, you cannot download any applications from the Marketplace. Although Google Android is a free operating system, you still have to License it via Google. The main problem is that Android is an open source OS, Google apps are not. Augen said that they were left in the software unintentionally.
Augen has released an update as of Aug 6 2010, that allows you limited access to a custom store they have set up. Do not expect to see any official applications here such as; Facebook, Twitter, LinkedIn, and all of the mainstays. You do have access to a few independent applications, but most are very lackluster. You can download the new Store App here
The Augen is riddled with bugs as well. For one, you cannot factory wipe all of the data from it. It gives you the option to do it, and when you reboot it, nothing happens. It also does not flip between landscape mode and horizontal mode. You have to download another app for this, but guess what? It's from the Android Marketplace.
Augen has released a new patch a few days ago, that fixes various glitches with their Tablet PC. You now have a screen calibration application, you can charge the unit via USB. You also get new drivers for Windows Vista and Windows 7. If you have Windows 7 64 bit edition, the new patch will not work, and it is unknown when it will.
We have heard reports that lots of people are returning the device, because it is misleading. Sure the Augen website says this low cost tablet PC has access to the App Store, they fail to mention which one. Many people were duped into buying the device, thinking they had access to the Android Market Place.
The GENTOUCH78 has an 800 pixel wide resolution and a 7" screen, allowing web browsing in full width. Unlike the experience on other mobile devices (small screens and slow speeds), the GENTOUCH78 offers a true web browsing experience with web pages displayed in full screen. No need of zooming in and out as the text is easily viewable on the 7" screen.
It has a 800 MHZ CPU, which won't break any speed records, and has a paltry 256 MB of Ram. It does have 2GB of internal memory and an SD card slot to expand to 32 GB of memory. If you download any of the E-Reader applications from the Google Market place, you can read your E-Books purchased from Barnes and Noble, Amazon, Kobo or a number of other stores. If you want to just read ebooks, it supports TXT, PDF, ePub, and HTML.
You can keep informed with Augen Gentouch Updates by checking out our new Augen Forum on the Good E-Reader Forum.
If you are looking for a really low cost tablet PC, we would say skip this for now, until the firmware updates actually make this device usable.
We will be doing a full video review of this unit in a few days.
Michael Kozlowski is the Editor in Chief of Good e-Reader. He has been writing about audiobooks and e-readers for the past ten years. His articles have been picked up by major and local news sources and websites such as the CBC, CNET, Engadget, Huffington Post and the New York Times.