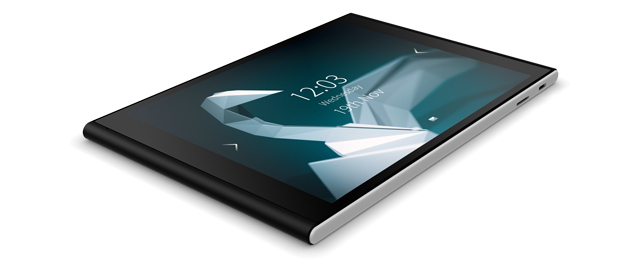 Many people are looking at investing in a new tablet for the springtime or are in the process of upgrading their old device. Researching is often critical in choosing the best thing that suits your budget. Today, we are going to give you a sense of the top new tablets that are going to soon be released.
Jolla Tablet
The Jolla Tablet is the first commercial device using the Sailfish 2.0 OS. What I like about it, is that their operating system feels fresh and unique in a world full of Android and iOS tablets. Its going to be available in early May and will be sold online for $299.
Lets look a little bit about the specs, the 8-inch (well, 7.85-inch) screen has a 2,048×1,536-pixel resolution which made everything look very crisp. You will be available to play most games and watch videos in HD.
Inside it's running on an Intel quad-core processor clocked at 1.8GHz, a 5-megapixel camera sits on the back, and there are 32GB or 64GB storage choices available. A 4,450mAh battery provides the juice which should be plenty for a full day of use. The build quality is high and the final product looks amazing.
Sony Xperia Z4
When Sony first started releasing tablets their design was very out of the box. After a few generations they slowly found their identity and the new Sony Xperia Z4 is a perfect example of why Sony should not stop making smartphones and tablets.
The Xperia Z4 features a ten inch QHD display, with a resolution of 2048 by 1080. You will be able to bring this tablet in the bath or on the beach since it has IP68 certification. Its other features include 64-bit octa-core Snapdragon 810 processor, 32GB of internal storage, 8 megapixels main camera, 5 megapixels front shooter and supports LTE. The tablet is powered by a 6000 mAh battery, and Sony promises the amazing up to 17 hours on a single charge. It is also ridiculously thin at 6.1 mm and weighs less than 396g.
It will be available this Spring and there is no price yet, but you will likely have to pay iPad Air type of money for it.
Apple iPad Air 2

The Apple iPad Air 2 is likely one of the best tablets on the market and you will have to pay serious money to buy one. It has the highest resolution in the business and a huge library of apps to support it. Some Android tablets also have high resolution, but not a lot of developers are optimizing content for it.
The 9.7 inch tablet features a staggering resolution of 2048×1536 and it makes playing games and watching videos a pure joy. In practical usage text in e-reader apps will be more defined, comics will be in HD and the magazine experience on the iPad is second to none.
Underneath the hood is a Dual-core 1.3 GHz Cyclone CPU, 1 GB RAM, 5 MP rear facing camera, 1.2 MP front facing camera and fingerprint sensor. Really, with this hardware you should at least get three or four solid years out of it before it becomes obsolete.
I think iOS is great because of the whole iCloud system. Whenever you switch to another Apple product, all of your settings, email accounts, multimedia and apps follows you around. This makes the process of setting up any future Apple product a walk in the park.
This tablet is available now and an entry level model is : $499.00 – $639.96.
Amazon Fire HDX 8.9
The latest generation Kindle Fire HDX 8.9 is a polished piece of hardware and has the best audio capabilities in the business. The world class Amazon ecosystem gives you a great selection of e-books, magazines, newspapers, audiobooks and polished software to give you an experience that can't be matched.
One of the benefits of the entire Fire 2014 product line is that it is fully compatible with the Fire TV. IT has a feature called the second screen, which allows you to replicate exactly whats on your tablet on the television. This is similar technology that the iPhone and iPad employ to build synergy via Air Play to the Apple TV.
The 8.9 slate has a resolution of 2,560 x 1,600 pixels and 339 PPI. The screen composition is IPS LCD and features a capacitive touchscreen, able to display about sixteen million colors. One of the new graphical enhancements was the inclusion of "Dynamic Light Control", which changes the white balance of the pages in reading mode to make it look more like paper depending on the ambient light conditions. That means it can go from cool to warm, from blue to nearly yellow.
Underneath the hood is Qualcomms Snapdragon 805 chip, which is top of the line. It clocks in at a staggering 2.5 GHz via the quad-core processor and has 2 GB RAM. Raw performance aside, Amazon is claiming 12 hours of runtime this year, roughly similar to its predecessor. In addition to that 805 chip, this is also the first tablet with Dolby's Atmos surround sound technology.
This tablet has been available since late 2014 and retails for an entry level price of $379. Keep in mind, unless you live in the US or UK you won't be able to buy everything Amazon sells, such as music and videos.
Huawei MediaPad X2
The new MediaPad X2 features a 7 inch LPTS display with a resolution of 1920×1200 pixels which covers more than 80% of the device's front. This will provide users with a great tablet to watch videos, play games or read books. It is also extremely portable, at just seven inches.
Underneath the hood is an "ultra" octa-core, 64-bit Kirin 930 chipset clocked in at 2.0Ghz. The 13MP camera at the back boasts a dedicated ISP chip, which is said to generally improve the low-light performance of the tablets's camera sensor. Most tablets have poor front facing camera, but the MediaPad has a 5 MP edition, which beats most other devices on the market.
The device will be available in two versions – one with 2GB of RAM/16GB of native storage and a beefier one with 3GB of RAM/32GB of available storage. Connectivity-wise, both of these are dual-SIM slates with LTE support.
There is currently no release date, but will ship in the Spring of 2015, no price has been defined either. People suggest it will be between $199 and $250.
Michael Kozlowski is the Editor in Chief of Good e-Reader. He has been writing about audiobooks and e-readers for the past ten years. His articles have been picked up by major and local news sources and websites such as the CBC, CNET, Engadget, Huffington Post and the New York Times.