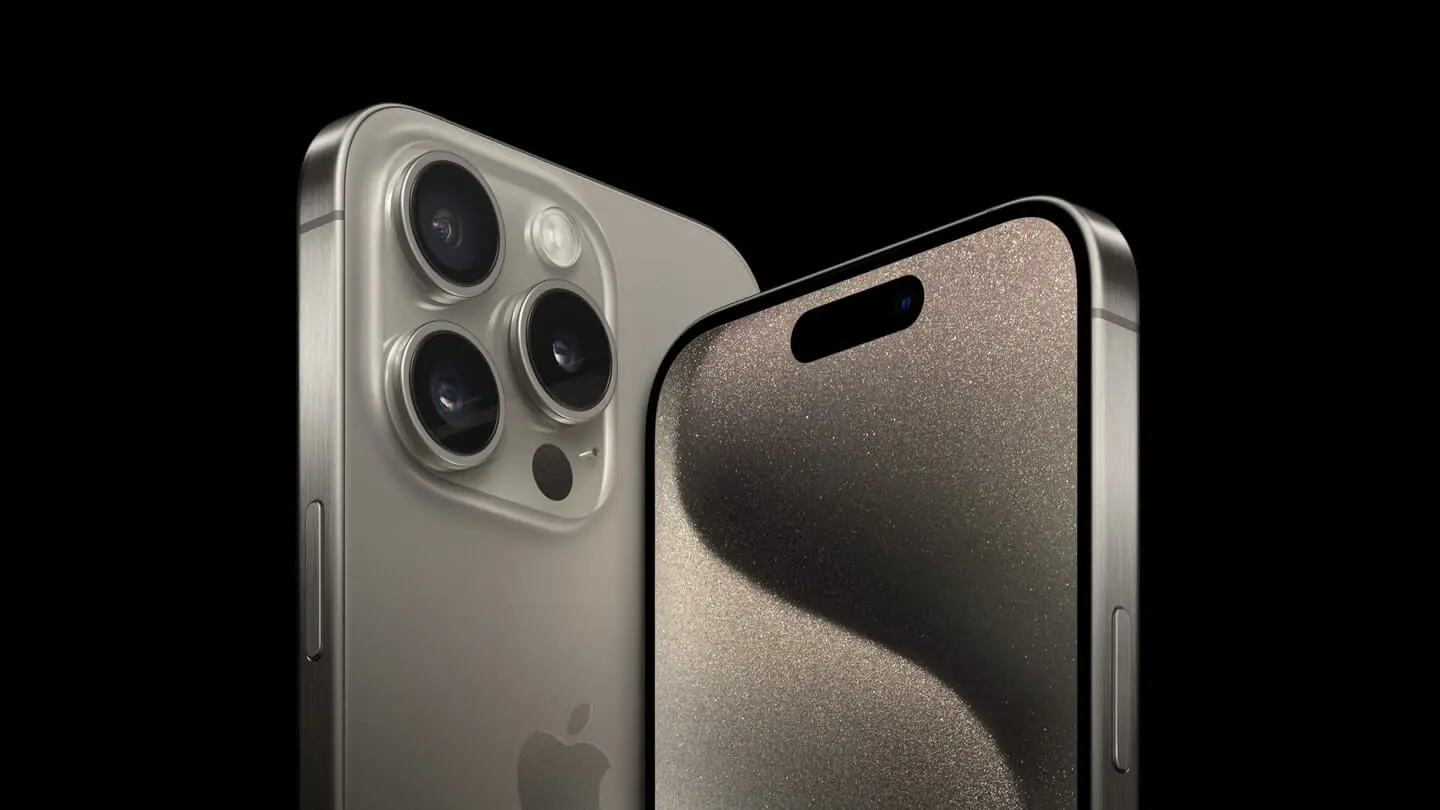 Apple Park in Cupertino, California, was once again the stage for Apple's annual iPhone launch event. Named the Wonderlust Apple 2023, the event marked the launch of a range of exciting new products and updates that promise to redefine the world of technology. Those include the new Apple Watch: Series 9, the Apple Watch Ultra 2, along of course the new iPhone 15 series.
Apple Watch: Series 9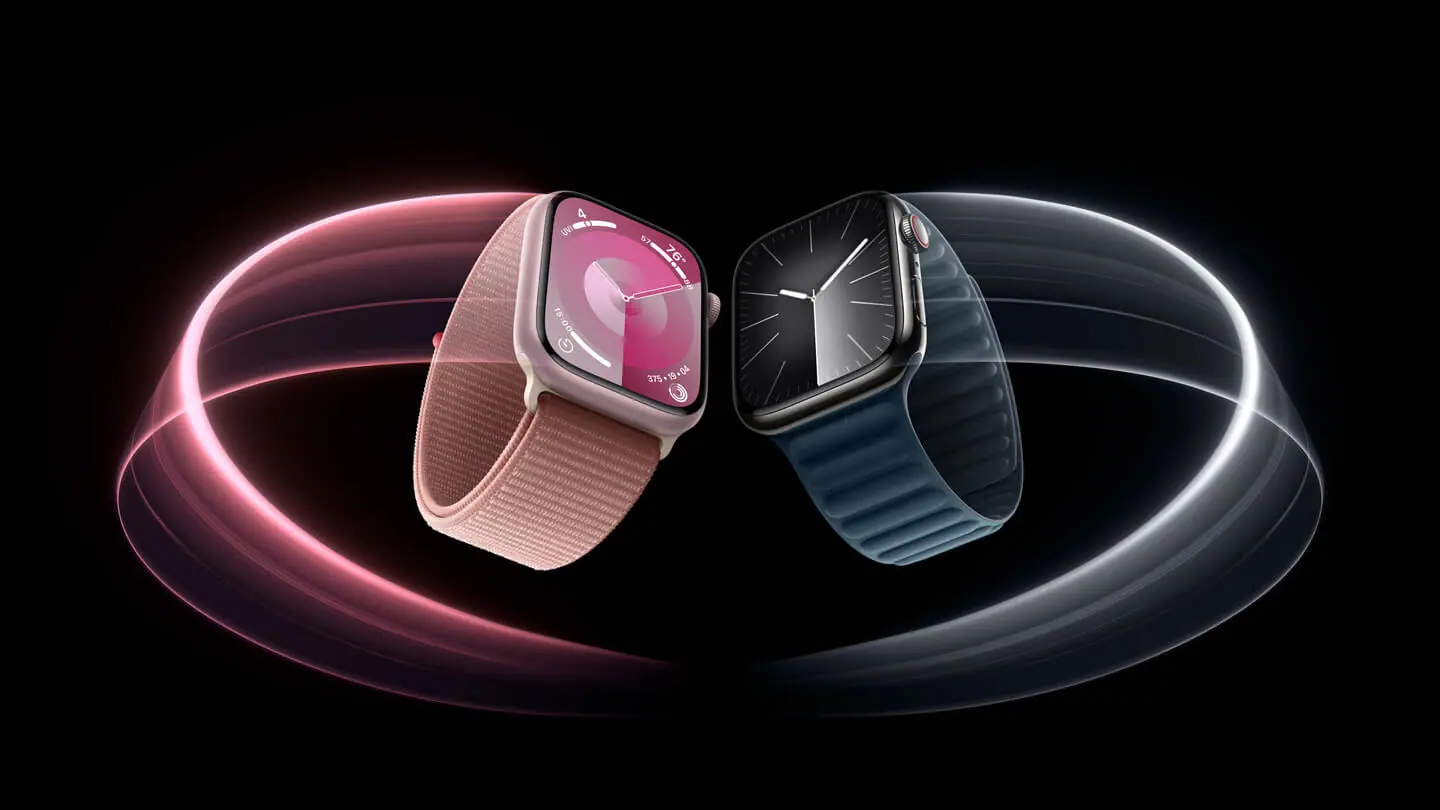 One of the standout announcements at Wonderlust Apple 2023 was the introduction of the all-new Apple Watch Series 9. This sleek wearable tech marvel is crafted with 95 percent titanium, offering durability without compromising on style. One of its most impressive features is its astounding battery life, boasting up to 72 hours of usage on a single charge.
The Apple Watch Series 9 is powered by the highly advanced S9 chipset, providing users with incredible processing power. Apple has also introduced a brand-new Siri + health feature, enabling users to engage with the voice assistant for health-related inquiries. Now, users can effortlessly ask, "Siri, what's my heart rate?" and receive instant, accurate data.
The Apple Watch Series 9 features a display with a remarkable brightness of up to 2000 nits, doubling the capability of its predecessor, the Series 8. This enhancement ensures excellent readability even in bright sunlight, making it the perfect companion for outdoor activities. Apple has also introduced a novel double-tap Gesture feature, simplifying actions such as answering and ending calls, controlling music playback, and navigating through widgets. What's more, this intuitive feature can be activated with just your thumb and index fingers, eliminating the need for physical interaction with the watch.
Running the latest WatchOS 10, the Apple Watch Series 9 promises a wide range of new enhancements and functionalities. From improved health tracking to enhanced performance, it's a smartwatch that adapts to your lifestyle seamlessly.
Apple fans won't have to wait long to get their hands on the Apple Watch Series 9, with availability starting next month. The GPS version of the watch is attractively priced at $399, while the GPS+cellular variant offers even more connectivity options and is priced at $499.
Apple Watch Ultra 2
Apple has once again pushed the boundaries of innovation with the unveiling of the second generation of the Apple Watch Ultra. This latest iteration brings forth a range of impressive features and enhancements, promising to redefine your wearable tech experience.
At the heart of the Apple Watch Ultra 2 lies the new S9 chip, accompanied by the latest WatchOS 10. Both offer a significant boost in performance and functionality, ensuring that your smartwatch keeps up with your active lifestyle. Notably, it introduces a cutting-edge 4-core Neural Engine, capable of handling machine learning tasks at double the speed of the original Apple Watch Ultra, making it even smarter and more responsive.
The Apple Watch Ultra 2 boasts the largest display ever seen on an Apple Watch, immersing you in a world of information and connectivity. With a peak brightness of an impressive 3000 nits, it marks a 50 percent increase compared to its predecessor, ensuring crystal-clear visibility even in the brightest of environments. The addition of a new modular ultra watch face enhances customization options, allowing you to tailor your watch to your personal style.
One of the standout features of the Apple Watch Ultra 2 is its comprehensive health tracking capabilities. Users can conveniently utilize on-device Siri to access and log their health data, making it easier than ever to monitor your well-being. This smartwatch offers a wide array of features, from heart rate monitoring to activity tracking, ensuring that you stay on top of your health and fitness goals.
Similar to its predecessor, the Apple Watch Ultra 2 incorporates the innovative double-tap gesture feature. With regular use, it provides an impressive 36-hour battery life, ensuring that your watch is ready for whatever the day brings. For those times when you need your watch to go the extra mile, it extends to up to 72 hours in Low Power Mode, ensuring you're always connected. With Bluetooth connectivity, you can stay in sync with your devices effortlessly. The Apple Watch Ultra 2 is set to start at a competitive price of $799.
Apple iPhone 15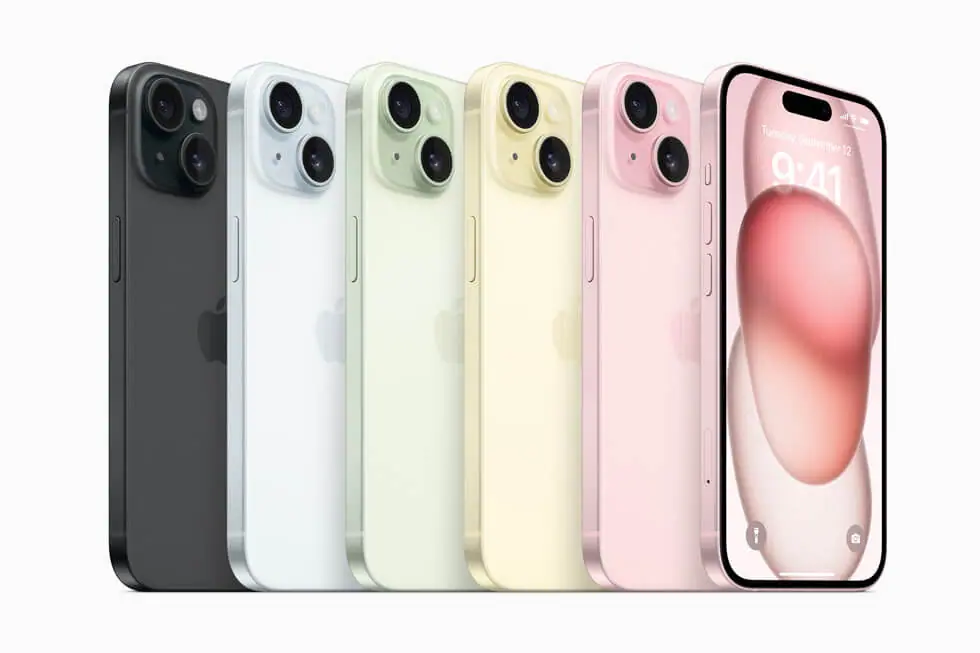 Apple has once again raised the bar with the official launch of the iPhone 15, introducing a range of noteworthy updates that promise to elevate your smartphone experience. While maintaining a consistent 6.1-inch display size, Apple has made significant strides by boosting the brightness to a remarkable 2000 nits, doubling the capability of the previous generation. This enhancement ensures that your content shines even in the brightest of settings, providing a visually stunning experience.
The standard iPhone 15 packs an enhanced camera system, featuring a 48 MP primary camera equipped with a quad-pixel sensor and an impressive 100 percent Focus Pixels for lightning-fast autofocus. With a default setting of 24 MP super-high resolution, you can expect detailed and sharp images without compromising on efficiency in image size.
Additionally, photography enthusiasts can leverage the 2x Telephoto lens to capture photos at 0.5x, 1x, and 2x zoom levels, offering versatility in every shot. The device introduces a new Smart HDR system and a feature that seamlessly automates Portrait photo capture, eliminating the need for manual mode switching.
Under the hood, the iPhone 15 is equipped with the formidable A16 Bionic SoC. This chipset boasts two high-performance cores, reducing power consumption by a remarkable 20 percent, alongside a 6-core CPU for enhanced overall performance. The star of the show is Apple's remarkable 16-core Neural Engine, capable of handling an astounding 17 trillion operations per second, ensuring that your phone is always up to the task.
A significant shift this year is the adoption of USB Type-C technology, marking a departure from Apple's proprietary lightning connector. This transition aligns with the universally accepted standard for charging and data transfer, offering more versatility to users. The iPhone 15 also embraces the future with support for MagSafe and upcoming Qi2 wireless charging technologies, ensuring that you stay connected without compromise.
The iPhone 15 is priced at $799, providing users with a choice of three storage capacities: 128 GB, 256 GB, and 512 GB. With five alluring color options including Pink, Yellow, Green, Blue, and Black, you can choose a style that suits your personality. Pre-orders for the iPhone 15 are set to begin on Friday, September 15 at 5 a.m. PDT, with the official sale kicking off on September 22.
iPhone 15 Plus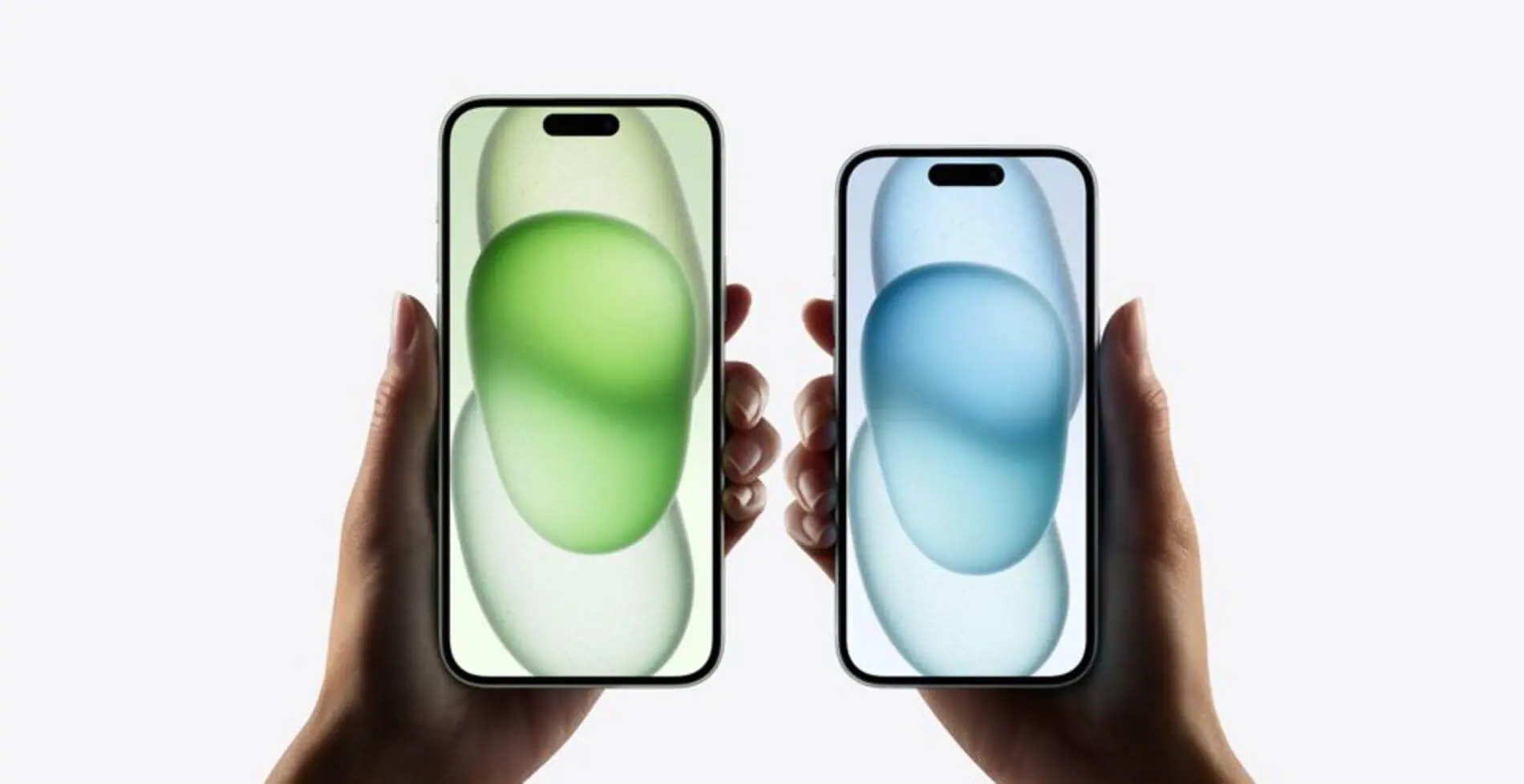 The iPhone 15 Plus takes a page from the iPhone 14 Pro's book by incorporating the innovative Dynamic Island, a feature that revolutionized the user interface. This dynamic element breathes life into your device, offering an enriched and ever-evolving user experience. Coupled with its enhanced performance, the iPhone 15 Plus introduces a vibrant color palette that adds a touch of excitement to your daily interactions. While retaining its impressive 6.7-inch display size, the iPhone 15 Plus raises the bar by increasing the maximum brightness to an astonishing 2000 nits. This enhancement ensures that you can enjoy crystal-clear visuals even in the brightest of environments, making your content truly shine.
Apple has not overlooked the camera department. The rear camera of the iPhone 15 Plus now boasts a formidable 48 MP main sensor. This sensor brings new capabilities, including 1x and 2x optical zoom modes, as well as the beloved 0.5x ultra-wide lens. Additionally, Apple has revamped the Portrait mode, enhancing its low-light performance to help you capture stunning photos even in challenging conditions.
Under the hood, the iPhone 15 Plus is driven by the A16 Bionic chip, previously showcased in the iPhone 14 Pro models. This remarkable system-on-a-chip features a six-core CPU and a 5-core GPU, ensuring swift and efficient performance for a wide range of tasks. Whether you're gaming, multitasking, or tackling productivity, the iPhone 15 Plus is up to the challenge.
The iPhone 15 Plus maintains the same impressive battery life as its predecessor. However, it benefits from a larger internal battery, providing extended power longevity that keeps you connected throughout your day. With the introduction of a USB-C port, replacing the Lightning connector, both wired charging and connectivity are enhanced, making charging more convenient and versatile.
iPhone 15 Pro and Pro Max
Apple continues to push the boundaries of innovation with the introduction of its latest flagship models, the iPhone 15 Pro and Pro Max. These devices are set to redefine the smartphone experience, combining cutting-edge technology, sleek design, and exceptional performance.
One of the standout features of the iPhone 15 Pro and Pro Max is their titanium chassis. This aerospace-grade material not only makes the phones lighter but also significantly more durable. The brushed finish not only adds a touch of elegance but also minimizes fingerprint smudges, ensuring that your device looks pristine at all times. Apple's attention to detail is evident in every aspect of the phone's design.
The bottom of these new models now hosts a USB-C port, enhancing connectivity options. This port opens up a world of possibilities, from faster charging to seamless data transfer. It's a small change with a big impact, making the iPhone 15 Pro and Pro Max even more versatile.
The iPhone 15 Pro retains its 6.7-inch OLED screen, while the Pro version features a 6.1-inch display. Both models sport Super Retina XDR displays with ProMotion technology. This means smoother scrolling, more responsive touch controls, and enhanced visuals. They also support the always-on display feature and the new StandBy mode in iOS 17, ensuring a dynamic and power-efficient viewing experience.
Powering both the iPhone 15 Pro and Pro Max is the A17 Pro chip. Apple has positioned this chipset as an absolute powerhouse, promising unparalleled performance in the smartphone world. It's not an exaggeration to say that it could rival high-end PCs in terms of processing capabilities. With a revamped GPU at its core, these devices are poised to revolutionize mobile gaming, delivering graphics and performance that were once thought impossible on a phone.
In the photography department, the iPhone 15 Pro models feature a 48 MP camera. This upgrade significantly improves low-light performance and virtually eliminates lens flare in photos. Users can effortlessly switch between focal lengths (24mm, 28mm, 35mm) and enjoy 5x optical zoom capabilities, which can be extended up to 120mm. These models also support 4K60 ProRes video recording and direct connectivity to external drives through the USB-C port, making them a creative powerhouse for content creators.
The iPhone 15 Pro starts at a competitive $999, offering a powerful and feature-rich smartphone experience. If you desire the utmost in technology, the iPhone 15 Pro Max is available starting at $1199.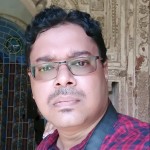 With a keen interest in tech, I make it a point to keep myself updated on the latest developments in technology and gadgets. That includes smartphones or tablet devices but stretches to even AI and self-driven automobiles, the latter being my latest fad. Besides writing, I like watching videos, reading, listening to music, or experimenting with different recipes. The motion picture is another aspect that interests me a lot, and I'll likely make a film sometime in the future.