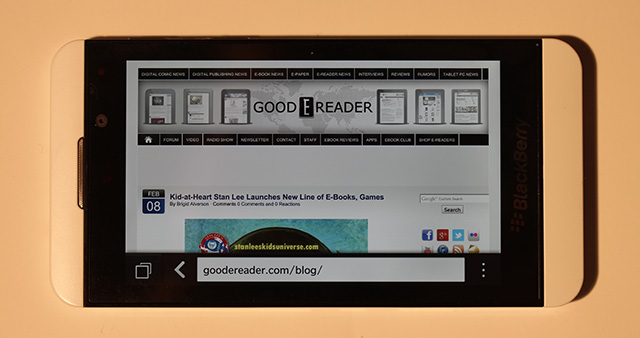 The Blackberry Z10 is the first smartphone to be released with the BB10 OS. This new operating system was years in development, and was a make it or break it operation from the company formally known as Research in Motion. We have seen Super Bowl advertisements and a mass media campaign to gain public acceptance. Is this a step in the right direction? Can the hardware match up against offerings from Google and Samsung?
During the course of this review, we will primarily look at the Z10 as a reading device, evaluate the content distribution system, and look at some of the new features. It is a great phone, but there are some critical flaws in it that might turn off email aficionados.
Hardware

The Blackberry Z10 features a 4.2 inch touchscreen display with a resolution of 1280 x 768 pixels. This is the largest display screen and highest resolution the company has ever released, and it makes interacting with everything a pure joy. HD content looks very clean and crisp, with the 15:9 aspect ratio, and there is more room on the screen to read books and check out your emails.
Underneath the hood is a 1.5 GHZ dual core processor and 2 GB of ram. There are only 16 GB of internal storage, but that far surpasses any of the prior models. You can easily expand the memory further via your Micro SD card.
One of the benefits for the corporate and casual world is the inclusion of a Micro HDMI port. You can easily hook it up to a projector, television, or other medium to stream movies, pictures, or music. Not many smartphones these days have a HDMI out, and this is a major advantage.
We have conducted extensive tests with the battery. It seems when we first started to use it, battery life was nothing to write home about. After a few days, it started to go back to normal. You will normally get 8-10 hours of constant use. If you do nothing but stream video, as we did on our loop test, you will get around 5 hours. If you turn Wi-Fi, NFC, and Bluetooth off, you will get a few extra hours. If all you do is leave your phone idle and take the odd call, you will get the full battery life. Unlike most phones these days, Blackberry has continued the trend of providing a removable battery. This obviously helps with quick and dirty hard-resets, but also allows companies to develop aftermarket batteries, or even allowing customers to just carry around an extra.
The phone I have been using for the last two years has been the Blackberry Torch. Honestly, if I had to open up a webpage, a sense of dread overwhelmed me. Websites took a long time to load, and the small screens warranted constant pinching and zooming to read any text. Sometimes the entire website would refresh if you did not do it perfectly right. The Z10 features LTE internet access, which is this generation's fastest speed. Website browsing is a pleasure now, which is something I thought would never happen. The large screen makes non-mobile optimized sites load very fast, often in seconds. Pinching and zooming is fairly responsive, and there is even an advanced option in settings to enable Adobe Flash. Of course, this web-browser is very much akin to the Playbook version, which is fully compatible with HTML5.
Sometimes, battery life can be hampered with LTE connections, especially if you are traveling in areas that have spotty coverage. There are more advanced settings under connections that allow you to switch between HSPA+ and LTE, to a slower GSM. There is 5 different settings you can engage, depending on if you are in rural areas or traveling.
One of the big advancements has been the integration of NFC. This will allow for mobile payments for merchants that support it. I haven't tried this myself yet, but obviously hardly any of the current generation of phones have the chip, so it's a major plus.
Finally, let's talk about the camera. We live in an age where some smartphones have crazy high resolutions. Blackberry has upgraded the camera to 8 MP and has various filters that you can use to snap some pictures. This is similar to the type of stuff you see in Instagram. If you take a picture in Black and White, it actually looks fairly sweet. One of the drawbacks is when you take pictures in low-light conditions, it is terrible. The one cool feature is called "Time Shift" which allows you to rapidly take a ton of shots, and then isolate the one that is the best. In real world circumstances, this tends to apply best to group shots.
In the end, the overall design is fairly lackluster. It almost feels like cheap plastic. I have the white model, and most prior Blackberries were pure white. The bezel is black, and the entire contrast is just too weird. It is light, though; half the weight of the Blackberry Torch and easily held in one hand.
Software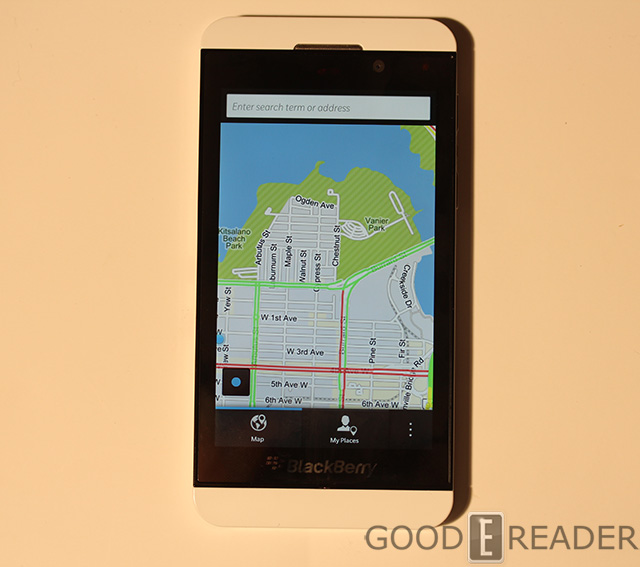 The Blackberry Z10 is running BB10, which is the latest operating system. Blackberry has been working on this for over two years, and has finally got it into reasonable shape, but it is not perfect.
The Blackberry Playbook and Z10 share some similarities in the way you interact with the touchscreen. There are tons of swiping gestures that occur when you swipe upwards on the bezel or downwards from the top. If you want to minimize a program, or close it, you simply swipe up. You can swipe downwards when you are in an app to normally see advanced options. If you swipe down on the main screen, you will see some options to lock the orientation, turn off Wi-Fi, access your settings, or set the alarm.
The general user interface is fairly clean, which is what I like. There are a number of pre-installed apps like Facebook, Twitter, Linkedin, Docs to Go, Foursquare, and Blackberry's new Maps. Obviously, with any mapping feature, it is very hard to compete against Gooogle, as Apple found out. The Maps app is solid, on a basic level, but doesn't do turn by turn navigation.
The keyboard on the Blackberry Z10 is one of the best we have ever used. It is similar layout in the physical QWERTY models, like the Blackberry Bold or Torch. The one new feature is predictive text, which will allow you to start typing a word, and then hit another key to fill in the blanks. If you are normally typing people's names, email addresses, or domain names, it gets better over time.
Blackberry World is where you go to get new apps. Honestly, it's terrible. Half of all the apps available are Android ports that run off of the Android Emulator. There are hardly any apps people actually use in the real world. I tend to use Pulse, Google Currents, Kindle, Moon+ Reader, Marvel Comics, Comixology, Nook, Google Reader, and Reuters. Are any of these apps in Blackberry World? Nope! Almost all of the best apps out there are clones! For example, there is an Engadet app, for $1.99, that is just a ripoff Android port, not submitted by Engadget themselves. Google Reader PRO is the same. Almost every major news and magazine app was just ripped off from the original developer and ported as an Android App. All of the submitted content has just indie developer names, and none are ported by the original company that made them. Content distribution is THE weakest element of the Z10, and will turn off a number of users.
Email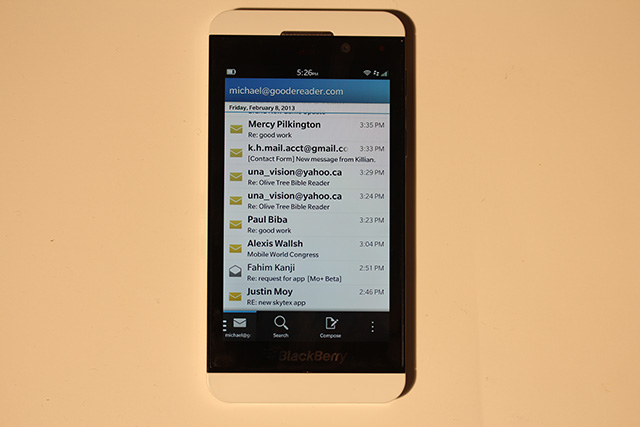 Many people have stuck with Blackberry through thick and thin, because of their world class email support and encryption. In the past, when you used a Blackberry phone, you had BIS support. This routs all email and BBM messages through the company's official servers. Part of this was due to hardware and the fact that older models used DataSmart Technology. DST allows emails and data to be compressed via the Blackberry servers. If you travel lots, you will likely see 4x less data consumption with an older phone than you would with the Z10. This obviously will save you a ton of money on roaming and data fees, which really helps.
In the past, if you wanted secure email and data, it was all done via Blackberry hardware encryption. The new Z10 works on a software encryption engine and does away completely from the old way of doing things. Packets of data are sent across shorter distances via your carrier, so you should receive emails in a timely fashion. The packets are encrypted each way by Blackberry, but you aren't getting true pushed email anymore.
There are lots of unknowns right now, with the internet rife with rampant speculation on how email is actually handled. Blackberry has offered no official answers on whether or not email is handled strictly by the carrier or if it is still using the Blackberry servers. We do know that you don't need a dedicated Blackberry data plan anymore with the Z10. This should save money for North American and European countries, but for countries like India, China, and other price conscious consumers, you will see more data fees.
All emails are physically stored in your main HUB. This is where your various email addresses, Tweets, and other social media messages are stored. It acts as a catch-all folder for everything you get, including texts and phone calls. The cool thing about the HUB is that you can disable anything you want, to cut down on clutter. One of the first things I did was disable everything except emails. I don't want Re-Tweets, Facebook status updates, and comments pinging me all the time. Another cool feature is to control anything you want with the red LED notifier on your phone. I disabled everything but emails, so if my phone blinks red, I know it's an email.
One of my biggest complaints right now with email would be the bugs in Delete Prior. The essence of Delete Prior is that it allows users to delete all emails in a folder, instead of having it go one by one. It seems if you have a single email address, delete prior works quick. The more email addresses that you add contributes to the amount of time it takes. Deleting is accomplished by long-pressing on the current date, but there is no highlight or indication that you are in fact doing it right. It will open a small sidebar with a delete prior message. You have to click on that, and them swipe it manually (and quickly). It often takes around 30 seconds for everything to be deleted, and often you have to repeat the same procedure two or three times for it to work.
Email used to be the strongest element of having a Blackberry. When the Arab Spring happened last year, it was primarily due to people securely sending each other messages via BBM and encrypted emails. This prevented the government from eavesdropping on what their citizens were doing. Phone companies could be subpoenaed, or (in most cases) were government owned. BBM on the Z10 is still secure, using the old Blackberry servers, so there are no worries there. The main problem right now is with the pushed email services, which have been the bread and butter of Blackberry. It seems right now that emails arrive faster on non-BB10 phones and slower on BB10 phones. This has partly to do with various carriers handling IMAP, POP3, Activesync, and various other protocols differently. If you rely on Gmail and other services like that, you are good to go. If you are like me and get emails from Exchange Servers, POP3, and other servers all over the world, the Z10 might not be for you.
e-Reading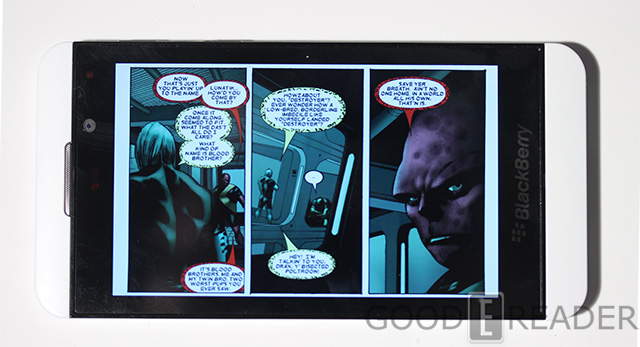 If you are buying the Z10 to read newspapers, magazines, and books, you are in trouble. Kobo was one company firmly behind Blackberry and supported most prior models and the Playbook. The official Kobo app is nowhere to be found, ditto with Kindle, Nook, Moon+, Cool Reader, Aldiko, and any other mainstream program. Like to read comics? You won't find a single comic app by a mainstream company anywhere on app world.The only reading app available is Press Reader, which gives you newspaper replicas of thousands of papers in the world.
Since you can't get any reading apps from Blackberry World, your only alternative is to get all of the above apps from Good e-Reader BB10 Market. We have worked very hard at converting all of the major reading apps to BB10 and Playbook compliant formats. You have to jump through a few hoops to load these on your device, but I am quite willing to do this.
One of the drawbacks with Android ports in general is the LAG associated with common functions. Opening Pulse on the iPhone and iPad takes seconds. It takes over 15 seconds on the Z10. Page turn animations on ported Android apps also take longer to happen. This is mainly because of the outdated Android emulator (android 2.3) that is available on both the Playbook and Z10. Blackberry has never confirmed that they will update the emulator, and it might be better to avoid this phone if you are looking to do any serious reading.
Now you may say, who reads on a smartphone and why does it matter? Surprisingly 51% of smartphone users, which is a large demographic of people catching up with RSS feeds, news apps, or just reading a book casually. Many people also tend to listen to audiobooks on their phone from Audible or other services. Suffice it to say, if you like to catch up on news from various websites, the Z10 will simply NOT do.
Wrap up
This is the first phone review Good e-Reader has ever done. We don't plan on making it a regular thing. The sole reason why we decided to do it was because we run the second largest Blackberry Playbook and BB10 App Store in the world, so it makes sense.
Hardware wise, this is the best phone Blackberry has ever released. The company blends memory, RAM, and a great processor underneath the hood. This is a phone that I can finally watch YouTube videos on, and have a large enough screen so that internet browsing is a joy. The actual phone calling is OK, and does Internet Tethering and Wireless Hotspot. But this is subject to your carrier supporting it.
The trouble with the Z10 is mainly due to software. There seems to be a large piracy problem on Blackberry World with many of the magazine and reading apps. We noted elsewhere in the review that many mainstream apps are just Android ports, and poor ones at that. There are simply no good programs that most readers will want to download. Apps from our own App Market fill the void, stuff like Olive Tree Bible Reader, Kindle, Nook, Kobo, and Comixology are only available through us.
The main problem with the Z10 for business users is the lack of BIS, BES, and true push email. This may be a deal breaker with Blackberry loyalists that consistently pass up the latest and greatest Android and Apple phones to get great email service. Although the Blackberry Z10 does the best job at email, it loses out on what made the company successful with the Enterprise users. Calender sync and Outlook sync are very hard to accomplish right out of the box, and customers need to engage in complicated workarounds. It is hard to recommend this device to both casual and power users. If you receive hundreds of emails and attachments a day, you may quickly go over your data cap, because you are not getting compression anymore.
Finally, it feels like Blackberry has created a new OS from scratch and is trying to compete against Windows, iOS, and Android. It honestly falls drastically behind all of them in terms of software and developer support. It has a woeful selection of apps and no Dev Jam in the world will convince first party developers to choose this OS. Blackberry feels like it is at a crossroads, and it is trying to appeal to a mass audience and losing its core business customers in the process.
Pros
Lightweight
Fast processor, plenty of RAM
Lots of storage space
Snappy interface
Large display screen
Front facing web cam
Cons
Lack of BES and BIS
Reading apps are virtually non-existent
Blackberry App World has piracy issues
Android emulator is outdated
Lack of quality Apps
Rating: 7.5/10
Michael Kozlowski is the Editor in Chief of Good e-Reader. He has been writing about audiobooks and e-readers for the past ten years. His articles have been picked up by major and local news sources and websites such as the CBC, CNET, Engadget, Huffington Post and the New York Times.