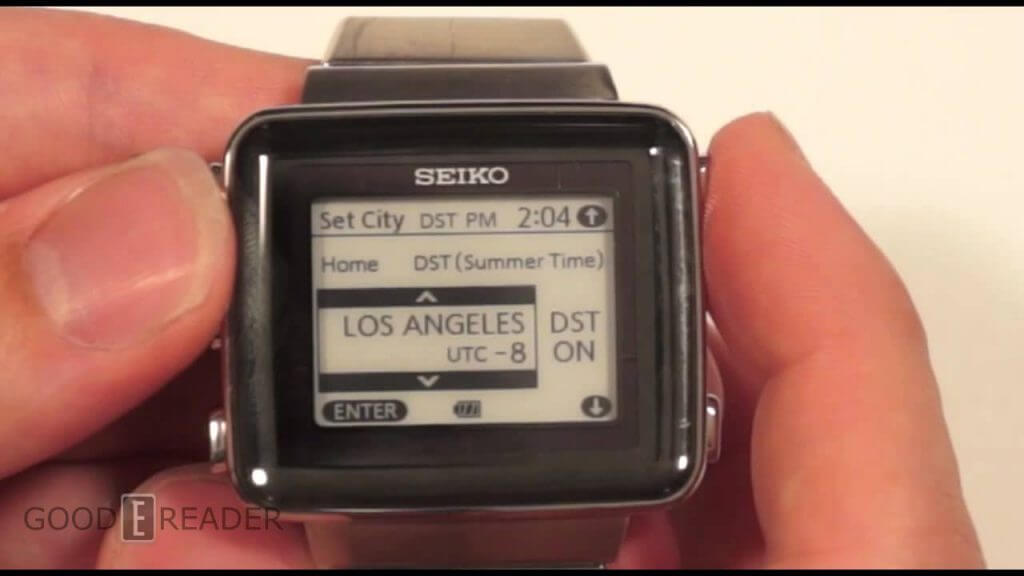 Seiko and e-Ink have been famous partners and were the very first companies to license out their e-Paper for something other than an e-Reader. Seiko has released two different iterations since 2011, and we have the Seiko Spirit SBPA003 to take a look at.
The Seiko Spirit SBPA003 features a 1.5 inch e Ink display screen and 300 dpi to deliver sharp, clear images with four shades of grey and a wide viewing angle. The SBPA003 was released in late 2011 and, notably, it is equipped with a second generation Active Matrix EPD (Electrophoretic Display), which is a fairly feature-rich e ink display. This is not the same type of e-paper found on the Amazon Kindle or Kobo Aura, but instead utilizes a very unique active matrix display which required developing an entirely new IC capable of using 1/100th the power required for a std e-Ink display of the same size.
e-Ink normally has a tremendously long battery life and this watch recharges itself via solar-power. Timing is very accurate and receives time-setting signals from the world's atomic clocks, assuring amazing accuracy. The time signals it receives are accurate to within one second in every 30 million years. Although there are atomic clocks spread across the world, in such countries as Japan, USA, India, Iran, and many more, living in Vancouver, Canada, I am right outside the Utah based tower and can't access this feature. Still, it does have my timezone, which is based in LA.
One of the cool features about this e-ink digital watch is the fact you can establish two different areas or timezones. You can have your home time and whatever city or country you are visiting in at the time. Normal watches only have one clock display system, this has two. It will prevent you from having to adjust the time, and it updates automatically.
There are five different styles that basically just change the font. It is mainly used to give you the current time, as menus are unaffected. In our review video, we go over every single menu, setting, and style, to give you a sense on how it performs.
When it comes to waking up in the morning or traveling and having to adjust for a timezone change, alarms matter. This watch has three different alarms, that you can set to three different times of the day, a fairly useful feature if you want to make it be your snooze button, if you like to nap, or have a series of meetings to attend.
The main draw is being able to sync to your iOS or Android device and receive data. None of these companies will be using e-Ink, per say, but all will have their own proprietary screen technologies that draw as little power as humanly possible.
We have talked extensively with all of these companies except Apple about their smart watch ambitions. Their goal is to make the watch an extension of your phone. It will provide essential functions, such as display Tweets, Facebook status updates, or show you recently received emails. Instead of taking the phone out of your pocket to check your social media situation, texts, and other comunications, the watch will make repetitive tasks easier to deal with.
Qualcomm, Samsung, Apple, Pebble, and many other companies are all fervently developing the next generation of wearable technology. Samsung and Apple are both early in development, but Qualcomm has a finished product using Mirasol and is looking for partners to license the technology. Pebble is the only commercially viable product right now, and is going to be available at Best Buy soon.
In the end, this is a great watch. It normally retails between $500 and $700, depending on where you can find one. Seiko does not ship outside of Japan and none of their international distribution partners actually carry it. Your most likely option is to check out EBAY or Amazon to get one somewhat quickly. It has a nice stainless steel band and feels like a high quality luxury item. Perfect for the e-Reading person in your family that has all the gadgets and wants to step up their game, this Seiko spirit is the most advanced e-Ink watch and will remain relevant until the next generation of smart watches.
Michael Kozlowski has been writing about audiobooks and e-readers for the past twelve years. His articles have been picked up by major and local news sources and websites such as the CBC, CNET, Engadget, Huffington Post and the New York Times. He Lives in Vancouver, British Columbia, Canada.