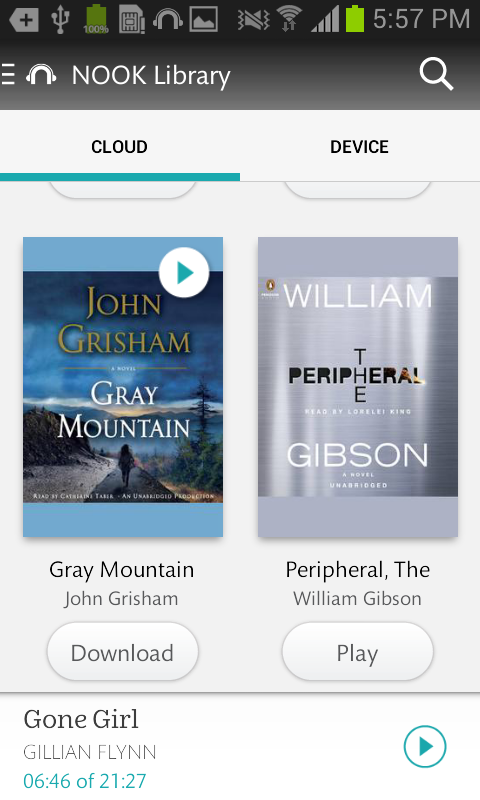 Barnes and Noble has formally unveiled their Nook Audiobook app for Android. The Nations largest bookseller is putting a company wide priority on the audio experience. This is the first time they have ever got serious about it and they intend on marketing it towards the types of people who buy books on a regular basis or have never listed to one before.
There are over 50,000 audiobooks from major publishers available to purchase and the vast majority of them have free samples that range between two and four minutes in length to preview. As part of the launch promotion every week there will be five free audiobooks and new users to the platform can download two for free. There is no signup required or credit card needed for the account in order to take advantage of this promotion. The titles were exclusively vetted to span multiple genres and picked especially for the overall quality of the narration. During the first week the following titles will be available; Charlotte's Web by E.B. White, Ender's Game (Ender Quintet #1) by Orson Scott Card, Gone Girl by Gillian Flynn, The Heist (Fox and O'Hare Series #1) by Janet Evanovich and Seabiscuit by Lauren Hillenbrand.
Kashif Zafar, Vice President of US Digital Content at NOOK Media told Good e-Reader exclusively "The mission of the design was to be very crisp and engage the broad mainstream audiobook customer. This was one of the first apps we built from the ground up and we feel it provides a user friendly experience.
Barnes and Noble is sourcing their compete audiobook collection from Findaway World via their AudioEngine imprint. This is the same organization that powers the vast majority of libraries digital catalogs.
This is not the first time the bookseller has got involved in audiobooks. For the last few years they sold them exclusively online and the titles were provided by Overdrive. When customers purchased an audio edition they had to download the Media Console app and had to register an account. Kashif mentioned that this distracted from the overall user experience and was quietly killed a few months ago.
The Nook Audiobook app will be made available via a firmware update for the Nook HD, Nook HD+ and the Samsung Galaxy Tab 4 Nook 7 and 10.1 inch models sometime in the near future. B&N did not confirm exactly when these tablets will get the update, but the priority right now is the Android app.  Kashif made it very clear that the marketing efforts behind the app is simply not pushing it out to the devices and hoping for the best. "We are implementing a marketing program across all of our bookstores to really drive home the fact we are serious about audiobooks. We also encouraging our publishing partners to advertise it across their own networks."
I got a chance to play around with the final release version of the Android app as apart of the soft-launch program. I actually found it really intuitive to use, it doesn't bog you down with advanced features, but makes listening and purchasing new content really easy. The main store features the aforementioned free content any user can download. There are a few sections that are curated by the new Nook Audio team and there will be seasonal themes and update provided every few weeks. There is also a featured audiobook of the week, which offers a tremendous discount.
When you listen to an audiobook, you don't have the advanced features that Audible has. You can't adjust the speed of the playbook to read faster or slower, you are stuck with the default setting. This isn't all bad, as much I as do use the iTunes and Audible Players I have never adjusted the narration speed, but some people do, so it bears mentioning. You also are limited to two simultaneous downloads at a time, but once the first chapter is is complete you can listen to the book as its downloading.
The Nook Audiobook App is available as a free download from Google Play but is only available for US customers.  I found that living in Canada you can buy and listen to audiobooks, so there seems to be no geographical restrictions on content. Kashif also wanted to make clear that an iOS version should be available in early Spring 2015. There is no timeline for official expansion into the UK or other international markets.
The entry into the audiobook market is perfect timing for Barnes and Noble. It perfectly rounds off their Nook Media catalog so they now sell everything a reader could possibly want. Apps, eBooks, comics, graphic novels, magazines, music, newspapers, and video.