The boundless cosmos of the Star Trek franchise has introduced to us a myriad of captivating characters. Among these, one enigmatic figure stands out, capturing the adoration and passion of fans with unparalleled intensity. As The Mary Sue pointed out, Andrew Robinson's portrayal of Elim Garak on Star Trek: Deep Space Nine has etched a lasting place in the hearts of Trekkies, leaving an indelible mark on the rich tapestry of this beloved sci-fi universe.
Among the constellation of recurring players, Garak emerged as a once-unknown supporting character, introduced to the audience as a mysterious possible villain-of-the-week for Starfleet Doctor Julian Bashir, portrayed by Alexander Siddig. But fate had greater plans for Garak, and Robinson's brilliant performance alongside Siddig's undeniable chemistry breathed life into the character, earning him a coveted spot as a recurring presence in the series. Though his appearances were limited compared to others, Garak's multifaceted persona as a former spy of the Cardassian Obsidian Order and a master tailor resonated deeply, endowing him with a cherished status within Star Trek's cherished history.
While Garak's intriguing journey unfolded on live-action television, his story traversed far beyond the boundaries of the small screen. The cosmos of extended universe media, including video games, comics, and most notably, novels, bore witness to the continuation of his enigmatic exploits. Among the treasured literary works, one novel stands out as a true gem: "A Stitch in Time," a literary creation penned by none other than Andrew Robinson himself. Inspired by a series of intimate journal entries written during his time on the set of Deep Space Nine, Robinson embarked on a voyage to explore Garak's innermost thoughts and emotions. Encouraged by the enthusiastic response from fans, who reveled in hearing these personal musings during conventions, Robinson transformed the journal into a proper novel—a gift to the devoted fanbase.
"A Stitch in Time" transcends the conventional boundaries of a typical Star Trek novel, evoking a unique fascination among fans of the Garak/Bashir dynamic. While the constraints of '90s television norms prevented overt expressions of romantic connection between the characters on screen, Robinson's heartfelt confirmation of Garak's profound interest in Doctor Bashir breathed a new dimension into their relationship. Beyond the confines of the TV show, Robinson and Siddig brought their characters to life through fanworks and live performances at conventions, forging a deep connection with fans. The novel itself, presented as a poignant letter from Garak to Bashir, offers a glimpse into the depths of the enigmatic ex-spy's soul—unveiling a breathtaking display of vulnerability and truthfulness.
Originally published in June 2000, "A Stitch in Time" became a coveted treasure for diehard Trekkies, sought after with zealous determination. However, the cosmic winds of fate have aligned once again, heralding an exciting revelation for fans. Simon & Schuster's announcement of Andrew Robinson recording an audiobook version brings new hope to all who seek to experience the magic of Garak's tale. With the actor himself lending his voice to his literary creation, this unprecedented milestone marks the first time in Star Trek history that an original TV character is both the author and narrator of a novel. As the cosmic pages turn, fans can immerse themselves in the velvety tones of Robinson's voice, rediscovering Garak's captivating journey within the boundless reaches of the Star Trek universe.
Now, the celestial curtain rises, and "A Stitch in Time," the captivating audiobook written and narrated by Andrew Robinson, takes its rightful place among the constellations of cherished Star Trek lore, beckoning fans old and new to embark on an unforgettable voyage filled with intrigue, passion, and the timeless spirit of exploration.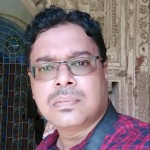 With a keen interest in tech, I make it a point to keep myself updated on the latest developments in technology and gadgets. That includes smartphones or tablet devices but stretches to even AI and self-driven automobiles, the latter being my latest fad. Besides writing, I like watching videos, reading, listening to music, or experimenting with different recipes. The motion picture is another aspect that interests me a lot, and I'll likely make a film sometime in the future.