This month, several new audiobooks have hit the market, and the Good e-Reader Audible list provides your online destination that covers the best new titles worth your time. You will get a sense of what the best fiction and nonfiction audiobooks are out or coming out soon. Check out the most anticipated listens of the month, from fiction to memoirs and thrillers.
Hello Beautiful by Ann Napolitano
Ann Napolitano's latest novel, Hello Beautiful, has absorbed my entire being. Period. Full stop. I was completely drawn into this unique tale of love, family, friendship, and forgiveness from the first chapter. With nods to one of my favourites, Little Women, this story is layered and deeply human. From being teary-eyed at how William was treated by his parents to not agreeing with some of the choices made by the Padavano women, I was emotionally invested in the five main characters as if they were my siblings. Napolitano's complex character building, paired with Maura Tierney's (of TV's ER) narration, made for a listen that I savoured every part of and will think about for a long time.
Michelle Obama: The Light Podcast
Upon releasing her second best-selling book, The Light We Carry: Overcoming in Uncertain Times, former First Lady Michelle Obama set out on an exceptional, highly anticipated, six-city U.S. book tour. Inside intimate venues and in front of small audiences, Mrs. Obama held inspiring conversations with esteemed friends like Ellen DeGeneres, Tyler Perry, Conan O'Brien, Oprah Winfrey, and more.
Michelle Obama: The Light Podcast goes beyond the book as Michelle Obama and her friends share personal stories and insights you won't encounter anywhere else. You'll hear first only on Audible. Listen as they explore themes from The Light We Carry, like building meaningful relationships; issues connected to race, gender, and visibility; the habits and principles they have used to adapt to change and overcome obstacles; and the importance of lighting up for others to reveal the richness and potential around us.
Hang the Moon by Jeannette Walls
After listening to Jeannette Walls narrate her groundbreaking memoir, The Glass Castle, it is no surprise that hers is the perfect voice to perform this vivid coming-of-age story. Set in Appalachia before and during Prohibition, the novel's central character, Sallie Kincaid, has a freewheeling and robust father, the "Duke." He's a man she thinks can "hang the moon." Yes, her father is a force, but so is Sallie. It's an epic tale full of tangled family bonds, tumultuous romantic relationships, hucksters, and opportunists. Against the odds, Sallie navigates it all and becomes one of the most memorable characters I've encountered in a long time.
Mothered by Zoje Stage
his pandemic thriller is layered with suspense, twins, and dark memories. Or are these dark visions something more than memories? Grace has lost her job. Her mother, Jackie, moves in to help with expenses, and a nightmare ensues for both. Grace is a dreamer, not the warm and fuzzy kind; instead, she dreams all things horrible, including her sister's death—and she takes us along for the ride. I didn't know where I was sometimes—in real-time or at bedtime. Narrator Sophie Amoss is a driving force as she deftly gives voice to the characters, making you feel all the anguish and the crazy between mom and daughter.
What Happened to Ruthy Ramirez by Claire Jimenez
A novel read by the author is always a treat, and I loved Claire Jiménez's knockout performance of her fiction debut. What Happened to Ruthy Ramirez follows a family that discovers their long-lost missing sister is alive and starring on a reality TV show. When sisters Jessica, Nina, and mom Dolores set out on a road trip to rescue Ruthy, chaos and hilarity ensue. Told in alternating viewpoints, including Ruthy's, we hear how the 12 years since the teen's disappearance have shaped each woman's life in this story of loss, survival, and bravery.
Someone Else's Shoes by
A story of mix-ups, mess-ups and making the most of second chances, this is the new novel from #1 New York Times bestselling author Jojo Moyes, author of Me Before You and The Giver of Stars
Who are you when you are forced to walk in someone else's shoes?
Nisha Cantor lives the globetrotting life of the seriously wealthy until her husband announces a divorce and cuts her off. Nisha is determined to hang onto her glamorous life. But in the meantime, she must scramble to cope—she doesn't even have the shoes she was standing in until a moment ago.
That's because Sam Kemp accidentally took Nisha's gym bag at the bleakest point of her life. But Sam hardly has time to worry about a lost gym bag—she's struggling to keep herself and her family afloat. When she tries on Nisha's six-inch high Christian Louboutin red crocodile shoes, the resulting jolt of confidence makes her realize something must change—and that thing is herself.
Full of Jojo Moyes' signature humour, brilliant storytelling, and warmth, Someone Else's Shoes is about how something can suddenly change everything.
What Have We Done by Alex Finlay
Twenty-five years ago, Jenna, Donnie, and Nico were best friends, having forged a bond through the abuse and neglect they endured as residents of Savior House, a group home for parentless teens. When the home was shut down—after the disappearance of several kids—the three were split up.
Though their childhood trauma has never left them, each went on to live accomplished—if troubled—lives. They haven't seen one another since they were teens but now are reunited for a single haunting reason: someone is trying to kill them.
To survive, the group will have to revisit the nightmares of their childhoods and confront their shared past—a past that holds the secret to why someone wants them dead.
It's a reunion none of them asked for . . . or wanted. But it may be the only way to save all their lives.
What Have We Done is an edge-of-your-seat thriller and a gut-wrenching coming-of-age story. And it cements Alex Finlay as one of the new leading voices in thrillers today.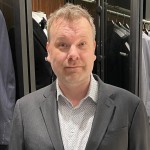 Michael Kozlowski has written about audiobooks and e-readers for the past twelve years. Newspapers and websites such as the CBC, CNET, Engadget, Huffington Post and the New York Times have picked up his articles. He Lives in Vancouver, British Columbia, Canada.