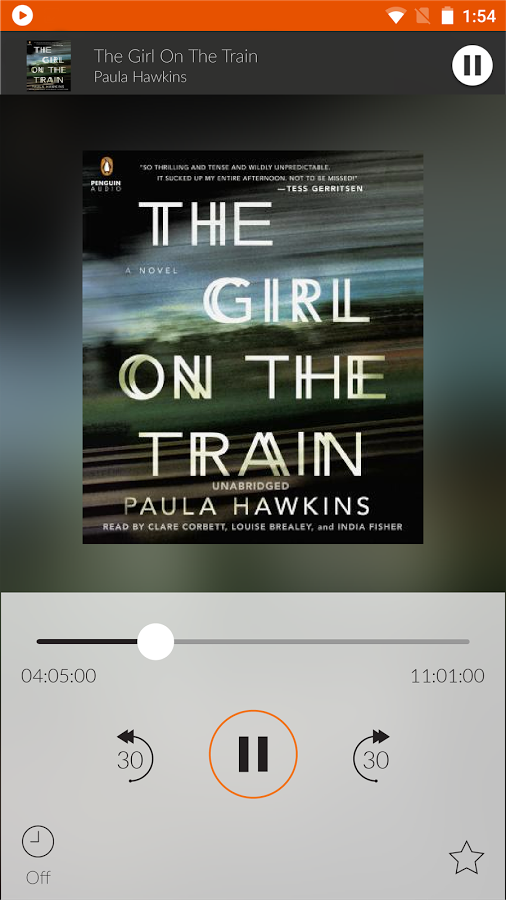 There aren't that many quality Audiobook apps for Google Android, as most companies tend to focus on iOS. Still, if you are looking to buy audiobooks, borrow them from the library or subscribe to an audiobook streaming service there are a number of viable options.
June 2015 is audiobook month and we are putting the spotlight on them all month long. All of these audiobook apps on this list are available to downloaded for free from the Good e-Reader App Store. Many of the apps are available on Google Play, but most are only able to be downloaded if you live in the US.
Nook Audiobooks – Barnes and Noble launched a new audiobook service a few months ago and the company is really hyping this service in bookstores and online. There are over 50,000 audiobooks available the app is fairly well designed.
Mortplayer Audiobooks – Mortplayer allows you to import in your own audiobooks that you download from the internet. They also have a number of widgets that can be added to your homescreen to better access content.
Audible – Audible is the largest audiobook system in the world. They have over 180,000 titles can be downloaded for free or purchased. The company always has a promotion where if you are register for a new account you can download a few audio titles for free. Audible is owned by Amazon and has the largest footprint in terms of sheer number of users who regularly access the platform.
Scribd – Scribd started out as an e-book subscription platform that allows you to read as many titles as you want, for a monthly fee. The company deverisfied into audiobooks a few months ago and is quickly becoming a hit. Instead of buying your audio titles one by one, you can listen to as many as you want. The service is not only exclusive to the United States either, they are in a ton of international markets.
Audiobooks by Audiobooks.com – This is one of the most popular audiobook platforms because it has a ton of content. There are over 60,000 audiobooks available to purchase and 2,500 for free. This app is really well designed and colorful. If you are a member of this company, you save anywhere between 50% and 80% off the cover price. Additionally June 2015 is Audiobook Month and this company is giving away a free one everyday, most are bestsellers.
Overdrive – Overdrive is the largest company currently particiapting in the library space. When your local library offers e-books, audiobooks or music, chances are they deal with these guys. The official Overdrive app allows you to listen to audiobooks that are borrowed from the library. The average new title certainly does not have the same type of waiting list as a physical book or e-book. This is a very popular app and many people are using it on their smartphones and tablets.
LibriVox Audio Books – LibriVox Audio Books access to over 15,000 free audio books. Each LibriVox audio book can be streamed over the internet or downloaded for later use without any charge. US users can access an additional 50,000 professional audiobooks. The LibriVox Audio Books app includes listings for new recordings, featuring classic best sellers and out of print treasures.
3M Cloud Library – The 3M Cloud Library allows you to borrow and read eBooks and eAudiobooks from your local public library for free. Your library needs to subscribe to the service and you will need your library card and PIN to access the content. The newly redesigned app includes all new navigation and personalization, making it easier than ever to find eBooks or Audiobooks from your local public library. This app includes a fully functional reader allowing the user to read their ebook directly in the app, as well as bookmark and save the position of their book across devices. It also includes an Audiobook player, allowing the user to download, play and listen to their books offline.

Michael Kozlowski is the Editor in Chief of Good e-Reader. He has been writing about audiobooks and e-readers for the past ten years. His articles have been picked up by major and local news sources and websites such as the CBC, CNET, Engadget, Huffington Post and the New York Times.