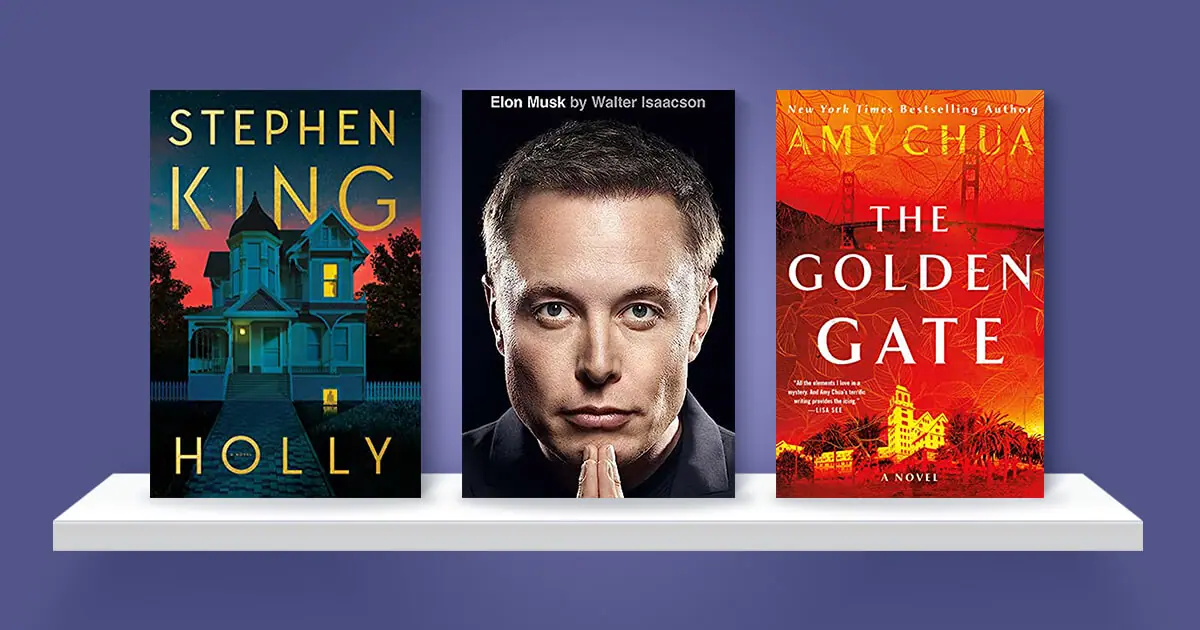 There have been several new and notable ebooks that have come out this month. Famous for his biography of Steve Jobs, Walter Isaacson has just written a book about Elon Musk. Stephen King has a new bestseller on virtual shelves, Holly. The Good e-Reader bestseller list has something for everyone, from romance to science-fiction and fantasy.

Things We Left Behind by Lucy Score
Lucian Rollins is a lean, mean, vengeance-seeking mogul. On a quest to erase his father's mark on the family name, he spends every waking minute pulling strings and building an indestructible empire. The more money and power he amasses, the safer he is from threats.
Except when it comes to the feisty small-town librarian that keeps him up at night…
Sloane Walton is a spitfire determined to continue her father's justice quest. She'll do that as soon as she figures out exactly what the man she hates did to—or for—her family. Bonded by an old, dark secret from the past and the dislike they now share for each other, Sloane trusts Lucian about as far as she can throw his designer-suited body.
When bickering accidentally turns to foreplay, these two find themselves not immensely regretting their steamy one-night stand. Once those flames are fanned, it seems impossible to put them out again. But with Sloane ready to start a family and Lucian refusing even to consider the idea of marriage and kids, these enemies-to-lovers are stuck at an impasse.
Broken men break women. It's what Lucian believes, what he's witnessed, and he won't take that chance with Sloane. He'd rather live a life of solitude than put her in danger. But he learns that leaving her means leaving her unprotected from other threats. It's the second time he's ruthlessly cut her out of his life. There's no way she's going to give him a third chance. He's just going to have to make one for himself.
Elon Musk by Walter Isaacson
When Elon Musk was a kid in South Africa, he was regularly beaten by bullies. One day, a group pushed him down concrete steps and kicked him until his face was a swollen ball of flesh. He was in the hospital for a week. But the physical scars were minor compared to the emotional ones inflicted by his father, an engineer, rogue, and charismatic fantasist.
His father's impact on his psyche would linger. He developed into a challenging yet vulnerable man-child, prone to abrupt Jekyll-and-Hyde mood swings, with an exceedingly high tolerance for risk, a craving for drama, an epic sense of mission, and a maniacal intensity that was callous and, at times, destructive.
At the beginning of 2022—after a year marked by SpaceX launching thirty-one rockets into orbit, Tesla selling a million cars, and him becoming the richest man on earth—Musk spoke ruefully about his compulsion to stir up dramas. "I need to shift my mindset away from being in crisis mode, which it has been for about fourteen years now, or arguably most of my life," he said.
It was a wistful comment, not a New Year's resolution. Even as he said it, he secretly bought up shares of Twitter, the world's ultimate playground. Over the years, whenever he was in a dark place, his mind returned to being bullied on the playground. Now, he had the chance to own the playground.
For two years, Isaacson shadowed Musk, attended meetings, walked his factories with him, and spent hours interviewing him, his family, friends, coworkers, and adversaries. The result is the revealing inside story, filled with fantastic tales of triumphs and turmoil, that addresses the question: are the demons that drive Musk also what it takes to drive innovation and progress?
Holly by Stephen King
Stephen King's Holly marks the triumphant return of the beloved King character Holly Gibney. Readers have witnessed Holly's gradual transformation from a shy (but brave and ethical) recluse in Mr. Mercedes to Bill Hodges's partner in Finders Keepers to a full-fledged, innovative, and occasionally tough private detective in The Outsider. In King's new novel, Holly is alone against a pair of unimaginably depraved and brilliantly disguised adversaries.
When Penny Dahl calls the Finders Keepers detective agency hoping for help locating her missing daughter, Holly is reluctant to accept the case. Her partner, Pete, has Covid. Her (very complicated) mother has just died. And Holly is meant to be on leave. But something in Penny Dahl's desperate voice makes it impossible for Holly to turn her down.
Mere blocks from where Bonnie Dahl disappeared live Professors Rodney and Emily Harris. They are the picture of bourgeois respectability: married octogenarians, devoted to each other, and semi-retired lifelong academics. But they are harbouring an unholy secret in the basement of their well-kept, book-lined home, which may be related to Bonnie's disappearance. And it will prove nearly impossible to discover what they are up to: they are savvy, patient, and ruthless.
Holly must summon all her formidable talents to outthink and outmaneuver the shockingly twisted professors in this chilling new masterwork from Stephen King.
Happiness Falls by Angie Kim
"We didn't call the police right away." Those are the electric first words of this extraordinary novel about a biracial Korean American family in Virginia whose lives are upended when their beloved father and husband go missing.
Mia, the irreverent, hyper-analytical twenty-year-old daughter, has an explanation for everything—which is why she isn't initially concerned when her father and younger brother Eugene don't return from a walk in a nearby park. They must have lost their phone and or stopped for an errand somewhere. But by the time Mia's brother runs through the front door bloody and alone, it becomes clear that the father in this tight-knit family is missing, and the only witness is Eugene, who has the rare genetic condition Angelman syndrome and cannot speak.
What follows is a ticking-clock investigation into the whereabouts of a father and an emotionally rich portrait of a family whose most personal secrets may be at the heart of his disappearance. Full of shocking twists and fascinating questions of love, language, and human connection, Happiness Falls is a mystery, a family drama, and a novel of profound philosophical inquiry. With all the powerful storytelling she brought to her award-winning debut, Miracle Creek, Angie Kim turns the missing-person story into something wholly original, creating an unforgettable tale of a family who must go to remarkable lengths to understand one another truly.
The River Runs South by Audrey Ingram
This transporting and illuminating debut novel will resonate with readers who have ever felt lost, perfect for fans of Kristy Woodson Harvey and Linda Holmes.
Exploring love, loss, and the courage to start over fresh, this novel will appeal to readers on the hunt for emotionally rich fiction.
When Camille Taylor's husband dies unexpectedly, the carefully constructed life she worked so hard to build in Washington, DC, shatters. After struggling for almost a year, she reaches a breaking point, packs up her daughter, and heads for the Alabama coast, where she grew up.
The salt air and slow rhythms of the coast soothe Camille's spirit, but when she meets local fisherman Mack Phillips, she learns that things have changed in her hometown. Runoff from an abandoned development site is polluting the water, and Mack has brought a suit against the site's owners—Camille's father among them.
Battling her fears for the fragile ecosystem of her beloved Mobile Bay, Camille joins her father's defence team, but the more she learns, the more she wonders if she's landed on the right side of the fight. Meanwhile, Camille is slowly drawn to Mack's fearless resolve, his sterling ideals, and finally to the man himself.
Faced with blurred lines between right and wrong, Camille must decide what the next chapter of her life will bring.
With timely commentary on Alabama's fragile ecosystem and exploring themes of grief, love, and community, The River Runs South will appeal to southern fiction readers on the hunt for the nostalgia of Sweet Home Alabama.

Mother-Daughter Murder Night by Nina Simon
High-powered businesswoman Lana Rubicon has much to be proud of: her keen intelligence, impeccable taste, and the L.A. real estate empire she's built. But when she finds herself trapped 300 miles north of the city, convalescing in a sleepy coastal town with her adult daughter Beth and teenage granddaughter Jack, Lana is stuck counting otters instead of square footage—and hoping that boredom won't kill her before cancer does.
Then Jack—tiny in stature but fiercely independent—happens upon a dead body while kayaking. She quickly becomes a suspect in the homicide investigation, and the Rubicon women are thrown into chaos. Beth thinks Lana should focus on recovery, but Lana has a better idea. She'll pull on her wig, find the true murderer, protect her family, and prove she still has power.
With Jack and Beth's help, Lana uncovers a web of lies, family vendettas, and land disputes lurking beneath a community populated by folksy conservationists and wealthy ranchers. But as their amateur snooping advances into ever-more dangerous territory, the headstrong Rubicon women must learn to do the one thing they've always resisted: depend on each other.
Assistant to the Villain by Hannah Nicole Maehrer
Once Upon a Time meets The Office in Hannah Maehrer's laugh-out-loud viral TikTok series turned novel, about the sunshine assistant to an Evil Villain…and their unexpected romance.
ASSISTANT WANTED: A notorious, high-ranking villain seeks a loyal, levelheaded assistant for unspecified office duties, supporting staff for random mayhem, terror, and other Dark Things In General. Discretion is a must. Excellent benefits.
With ailing family to support, Evie Sage's employment status isn't just important, it's vital. So when a mishap with Rennedawn's most infamous Villain results in a job offer—naturally, she says yes. No job is perfect, of course, but even less so when you develop a teeny crush on your terrifying, temperamental, and undeniably hot boss. Don't find evil so attractive, Evie.
But when she's getting used to severed heads suspended from the ceiling and the odd squish of an errant eyeball beneath her heel, Evie suspects this dungeon has a huge rat…and not just the literal kind. Something rotten is growing in the kingdom of Rennedawn, and someone wants to take the Villain—and his entire nefarious empire—out.
Now Evie must not only resist drooling over her boss but also figure out who is sabotaging his work…and ensure he makes them pay.
Evil Eye by Etaf Rum
"A moving meditation on motherhood, inter-generational trauma and how surface appearances often obscure a deeper truth. . . . A stunning second novel from a writer who set the bar very high with her first!"—Tara Conklin, New York Times bestselling author of The Last Romantics and Community Board
The acclaimed New York Times bestselling author of A Woman Is No Man returns with a striking exploration of the expectations of Palestinian-American women, the meaning of a fulfilling life, and the ways our unresolved pasts affect our presents.
"After Yara is placed on probation at work for fighting with a racist coworker, her Palestinian mother claims the provocation and all that's come after were the result of a family curse. While Yara doesn't believe in old superstitions, she finds herself unpacking her strict, often volatile childhood growing up in Brooklyn, looking for clues as to why she feels so unfulfilled in a life her mother could only dream of. Etaf Rum's follow-up to her 2019 debut, A Woman Is No Man, is a complicated mother-daughter drama that looks at the lasting effects of intergenerational trauma and what it takes to break the cycle of abuse."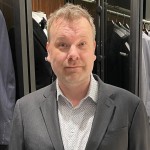 Michael Kozlowski has written about audiobooks and e-readers for the past twelve years. Newspapers and websites such as the CBC, CNET, Engadget, Huffington Post and the New York Times have picked up his articles. He Lives in Vancouver, British Columbia, Canada.