The 2023 Scotiabank Giller Prize was awarded on Monday to Author Sarah Bernstein for her novel Study for Obedience. The Montreal-born author, who now lives in Scotland, received a prize of $100,000.
Study for Obedience follows a narrator who deals with rejection and prejudice from the local town's folk after moving to a northern country to care for her older brother. Shortly after her arrival, bizarre and inexplicable events start to stir up trouble. A sense of collective hysteria occurs when odd events begin to happen; a local dog has a phantom pregnancy, and a potato disease sets in. The young woman notices that the locals seem to be directing their fear at her, and she starts to sense a mounting threat.
This is the 30th year the Giller Prize has been awarded.
The selection jury consisted of a diverse member jury panel, including Canadian authors, Ian Williams (Jury chair and winner of 2019 Scotiabank Giller Prize), Brian Thomas Isaac and Sharon Bala. In addition, Indian-British writer, Neel Mukherjee and American author Rebecca Makkai rounded out the jury of five.
Over 145 works were submitted, and on September 6th, the jury narrowed down that list to twelve to create the longlist. The shortlist, of five works, was announced on October 11th. The jury finally settled on one book, the winner, on the morning of November 13th.
Upon selecting Study for Obedience the jury wrote:
"The modernist experiment continues to burn incandescently in Sarah Bernstein's slim novel, Study for Obedience. Bernstein asks the indelible question: what does a culture of subjugation, erasure, and dismissal of women produce? In this book, equal parts poisoned and sympathetic, Bernstein's unnamed protagonist exacts, in shockingly twisted ways, the price of all that the world has withheld from her. The prose refracts Javier Marias sometimes, at other times Samuel Beckett. It's an unexpected and fanged book, and its own studied withholdings create a powerful mesmeric effect."
As reported by CBC news, a handful of anti-Isreal protesters came to the Toronto awards ceremony and as Bernstein's name was announced, began to shout anti-war slogans.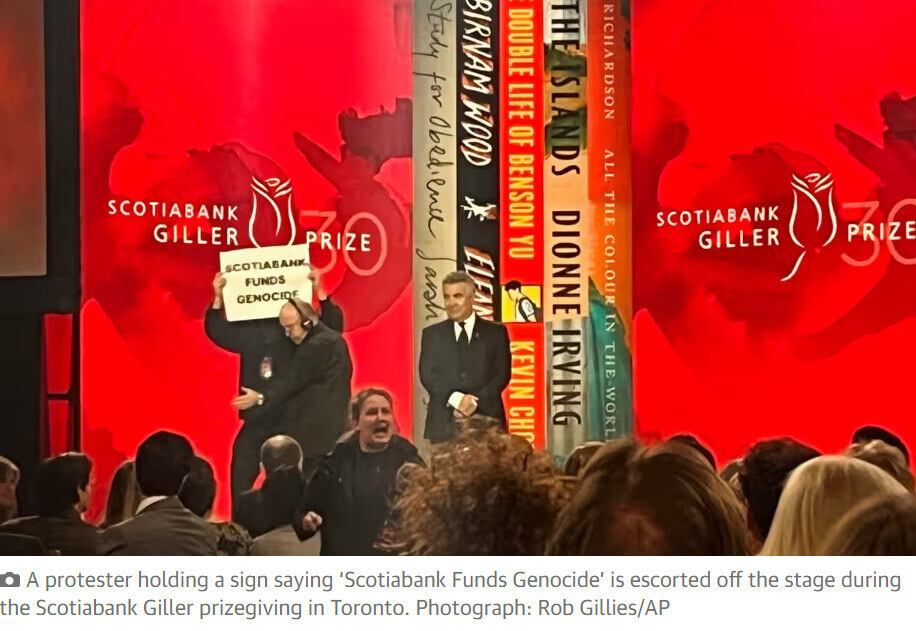 Video footage on X shows a protester in the audience area shouting that Scotiabank "Currently has a $500m stake in Elbit Systems" and that "Elbit Systems is supplying the Israeli military's genocide against the Palestinian people". According to The Guardian, "Elbit Systems is an Israel-based arms manufacturer that has long been criticized by activists for supplying the Israeli military."
Due to just giving birth ten days prior, Bernstein attended the ceremony remotely, saying in her speech, "I think…how important it is, now more than ever, to support writers in material ways who tell stories of their people in their ways, especially when their stories challenge dominant historical narratives."
The four remaining finalists (listed below) each received $10,000:
Dionne Irving for her short story collection The Islands: Stories, published by Catapult
CS Richardson for his novel All The Colour in the World, published by Knopf Canada
Eleanor Catton for her novel Birnam Wood, published by McClelland & Stewart
Kevin Chong for his novel The Double Life of Benson Yu, published by Simon & Schuster
The Giller Prize was established in 1994 by Toronto businessman Jack Rabinovitch in honour of his late wife Doris Giller, a former literary editor for the Toronto Star. This high-value literary award is given annually to a Canadian author.
Since its creation, the Giller Prize has been given to both novice and established authors from both tiny independent and sizeable Canadian publishing houses.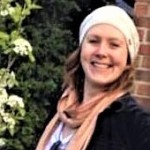 An avid book reader and proud library card holder, Angela is new to the world of e-Readers. She has a background in education, emergency response, fitness, loves to be in nature, travelling and exploring. With an honours science degree in anthropology, Angela also studied writing after graduation. She has contributed work to The London Free Press, The Gazette, The Londoner, Best Version Media, Lifeliner, and Citymedia.ca.