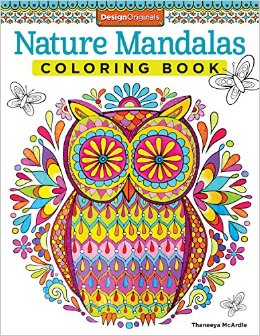 There is no disputing the fact that the publishing industry looks nothing like it did even ten years ago, let alone a hundred years ago. As a result of these swift and all-encompassing changes, bookselling has changed dramatically, too. One of the first major shifts was in the large numbers of adult readers who were voraciously consuming young adult literature, largely because there was nothing like the books of today when those readers were kids. It wasn't long before hard-core erotica burst into the spotlight, no longer relegated to the taboo bookstores and carried around in brown wrappers or tucked inside more "worthy" books.
So it should come as no surprise that one of the hottest trends in bookselling right now is coloring books aimed at adults. No, it's not the 50 Shades of Grey coloring book adaptation, but instead highly intricate works of art meant for adults to enjoy.
According to an article in the Guardian on the surprising sales figures of a few select new titles, the real reason these are so popular with adults is the ability to unwind and do something slightly mindless, while still getting an energy boost brought on from tapping into one's creative side.
"I think it is really relaxing, to do something analogue, to unplug," said illustrator/author Joanna Basford told the Guardian. "And it's creative. For many people, a blank sheet is very daunting; with a colouring book you just need to bring the colour. Also there's a bit of nostalgia there. So many people have said to me that they used to do secret colouring in when their kids were in bed. Now it is socially acceptable, it's a category of its own. These are books for adults. The art in my books is super intricate."
While the books that have made waves among readers in recent years are still published under the traditional model–young adult titles such as the Hunger Games trilogy, explicit content such as Abbi Glines' Rosemary Beach series, and now high-art coloring books–it's no wonder that readers are sparking as much change as authors have. Where authors are no longer limited in their publishing models, their preferred genres, or their formats, readers have also refused to be limited by something as simple as a recommended age range. And whether it's tales of BDSM or highly complex black line drawings of botanical gardens, readers are demanding choice, too.
Mercy Pilkington is a Senior Editor for Good e-Reader. She is also the CEO and founder of a hybrid publishing and consulting company.