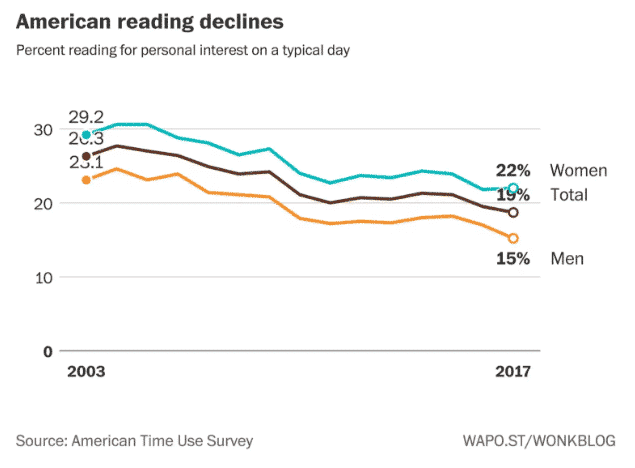 Reading ebooks and print are on the decline and everyone involved in retail and the publishing industry are trying to figure out why. Are people simply not reading for pleasure anymore and consuming original Netflix content or listening to Spotify? What we do know is that between 2003 and 2016, the amount of time that the average American devoted to reading for personal interest on a daily basis dropped from 0.36 hours to 0.29 hours.
The Bureau of Labor Statistics most recent American Time Use Survey found a decline in leisure reading—a record low 19% of Americans age 15 and older reported that they read for pleasure. The largest declines are in the 35–44 age group. Balancing this is a rise in television and Netflix viewing, which is nearly 10 times the amount of time devoted to reading for pleasure.
Pew Research Center issued a report in March 2018 and this update found that adults with lower incomes are "about three times as likely as the most affluent adults to be non-book readers (36% vs. 13%)" and that those with "a high school degree or less are about five times as likely as college graduates (37% vs. 7%) to report not reading books in any format in the past year." Non-book readership is higher among Hispanics, who "are about twice as likely as whites (38% vs. 20%) to report not having read a book in the past 12 months. But there are differences between Hispanics born inside and outside the U.S.: Roughly half (51%) of foreign-born Hispanics report not having read a book, compared with 22% of Hispanics born in the U.S." While 28% of American adults age 50 and older reported not reading a book in the past year, it was 20% for those younger than 50.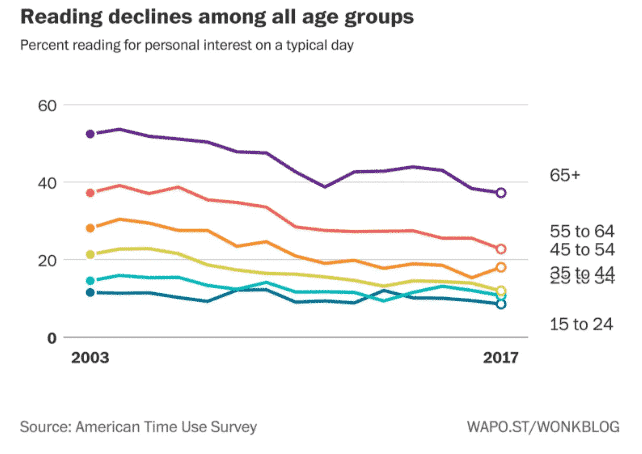 Here are some heart wrenching statistics. 33% of high school graduates never read another book the rest of their lives and 42% of college grads never read another book after college. 70% of US adults have not been in a bookstore in the last five years and 80% of US families did not buy or read a book last year.
Forbes contributor Adam Rowe reports that according to Nielsen's PubTrack Digital, total ebook sales were 162 million in 2017, down 10% from 180 million the previous year. However, Rowe explains that "this isn't a comeback story for print, and shouldn't be considered evidence of a waning public interest in ebooks. The fact that traditionally published ebook sales fell 10% last year isn't the full picture." He adds that "audiences moved to indie publishers, largely on Amazon." The reason, according to Jonathan Stolper, who was the SVP and global managing director for Nielsen Book in 2016, "comes down to pricing."
There have been a handful of reports all issued this year that lament that the typical American is simply not reading for pleasure anymore. The smartphone is always in our pocket and many people tend to read on it, but it's really easy to break immersion when you get Facebook notifications or Twitter DMS. Netflix constantly gives us pop ups about a new original movie or television show they just added and instant messaging dings are omnipresent.  E-Readers are not as popular as they used to be and Barnes and Noble is stocking more toys, records and lifestyle items than books.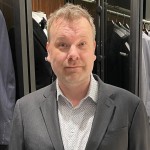 Michael Kozlowski has written about audiobooks and e-readers for the past twelve years. Newspapers and websites such as the CBC, CNET, Engadget, Huffington Post and the New York Times have picked up his articles. He Lives in Vancouver, British Columbia, Canada.