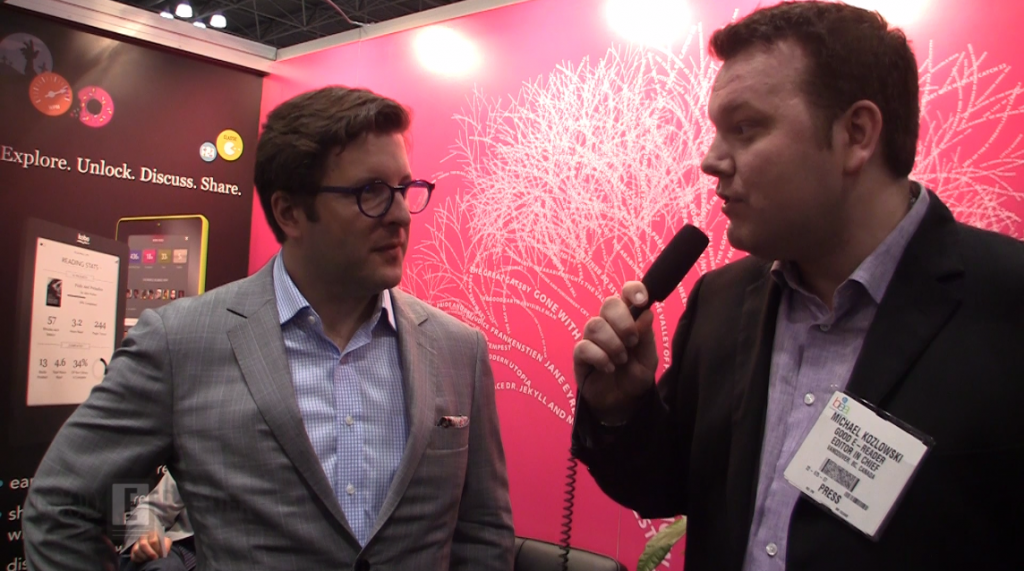 Michael Tamblyn was one of the original founders of Kobo and today has been named the new CEO. He takes over from Taka Aiki, who came to the company and took over the reigns when Rakuten purchased the company.
Tamblyn has slowly been getting groomed for the top position at Kobo for a number of years.  In 2014 he as named the acting President and in 2013 he was named the Chief Content Officer, where he oversaw content acquisition and sales, publisher and industry relations, and localized merchandising experiences across all of Kobo's online and mobile services.
Prior to coming to Kobo, Michael was the founding CEO of the supply chain agency BookNet Canada, where he launched the national sales reporting service BNC SalesData and authored the publishing technology call-to-arms, "Six Projects That Could Change Publishing for the Better." He also co-founded Canada's first online bookstore, Bookshelf.ca, which was purchased by Indigo Books & Music in 1998. At Indigo, he launched Indigo.ca and served as Vice President of Online Operations.
"At Rakuten Kobo, we stand for readers, for the people who put books and reading at the very centre of their lives. There could truly be no better job than to spend every day figuring out how to make a reader's life better," said Tamblyn. "I am also looking forward to my role in ensuring our parent company, Rakuten, achieves its vision of enriching every stage of a reader's life. Together with OverDrive and Aquafadas, we want the best possible reading experiences for schools, libraries, institutions, corporations and consumers, enabling readers to buy or borrow digital content anywhere in the world."
Tamblyn has always been the face of the company and has regularly attended publishing events all over the world. He often speaks to the media and does not hold back when he gives talks about the future of e-readers and e-books. I think the company is in good hands with Tamblyn now taking the reigns, he is what you call a "lifer" in the industry.
[showhide type='pressrelease']
Rakuten Kobo Inc., a global leader in eReading, today announced a change of leadership. President Michael Tamblyn will become Chief Executive Officer, succeeding Takahito (Taka) Aiki, who will remain involved in the company as Chairman, effective January 1, 2016.
Tamblyn, who has been a member of the executive team since Kobo's founding in 2009, was named President in April 2014. He now becomes President and CEO, and will continue to work closely with Aiki in a new role as Vice Executive Manager of the companies in the Rakuten Global eBook Business, which include Kobo, Kobo Japan; OverDrive, the world's leading eBook, audiobook and streaming video platform for libraries and schools; and Aquafadas, a software development company specializing in digital publishing applications.
In addition to his role as Chairman of Rakuten Kobo, Aiki will continue in his role as Managing Executive Officer of Rakuten's Global eBook Business.
"I came to Kobo in February 2014 with a mission to work closely with the executive team to bring the company to its next level of sustainable growth on the global stage. We have done incredible work in the past 22 months and the discipline, innovative thinking, financial planning and customer focus are exactly where they need to be for success," said Aiki. "We have achieved dramatically improved financial performance and I have full confidence in the current executive to lead this company into the future. I very much look forward to working closely with Michael as CEO and as a partner guiding all of Rakuten's digital reading properties, to extend Rakuten's vision of global leadership in offering digital and internet services that connect people and empower society."
Since February 2014, Tamblyn and Aiki have led Rakuten Kobo through some significant advances: Rakuten's acquisition of OverDrive; the launch of Kobo's digital reading service in Mexico with two of the country's biggest bookstore chains, Librerias Porrúa and Gandhi; and the acquisition of the customers from Sony's eBook business and from the UK eReading service BlinkBox. In the same period the company has also launched three successful new devices: The world's first premium waterproof eReader, the Kobo Aura H2O, Kobo Glo HD and Kobo Touch 2.0.
"At Rakuten Kobo, we stand for readers, for the people who put books and reading at the very centre of their lives. There could truly be no better job than to spend every day figuring out how to make a reader's life better," said Tamblyn. "I am also looking forward to my role in ensuring our parent company, Rakuten, achieves its vision of enriching every stage of a reader's life. Together with OverDrive and Aquafadas, we want the best possible reading experiences for schools, libraries, institutions, corporations and consumers, enabling readers to buy or borrow digital content anywhere in the world."
[/showhide]