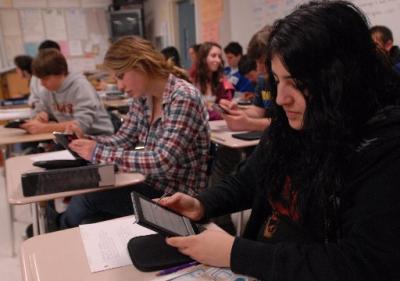 Proquest has officially acquired Ebook Library and this new acquisition greatly enhances the the ability for Proquest to expand its digital offerings in Academia. The acquisition supports ProQuest's overall goal of enhancing the research experience through seamless discovery of content across multiple formats, including books, journals, dissertations, newspapers, and video.
Not that many people might be familiar with Proquest and what the company actually does. I spoke with Kevin Sayar, Senior Vice President of Workflow Solutions, and we discussed what the acquisition means and what Proquest is doing on the digital book front.
Kevin originally joined Proquest when his company, Ebrary, was acquired by Proquest in early 2011. At the time, Proquest did not really have any sort of stake in digital books and the deal with Ebrary solved that issue. With the new deal for EBL, it adds a copious amount of books into its digital portfolio. Right now, Proquest has over one million academic titles and deals with over 600 publishers.
Proquest currently does business with schools, government, libraries, and private academic businesses. Its entire business model is centered around textbooks and e-textbooks. 60% of its current business operations are focused on the US, but they do have a heavy presence in Canada too. The EBL deal opens up a number of territories and business dealings in Japan, Australia, and Europe. Going forward, Proquest is focusing hard on Germany.
What exactly is involved in opening up a new market for Proquest and e-textbooks in general? It often begins with talking to local publishers who are in the business of serving their own markets. Often, they do not have any sort of digital presence and Proquest helps to digitize their existing assets. Kevin cited Germany as a specific example of how his team leverages the large company and bundles a copious amount of English content alongside German content that traditionally is only available in the printed format. Proquest then markets its growing library to schools, libraries and other businesses within Germany.
Overdrive, 3M, and Baker and Taylor have become synonymous when we think of borrowing ebooks from the library. Often, these companies only deal with consumer trade for fiction and nonfiction titles. When it comes to academic books, we often don't hear much about what companies libraries often deal with. Kevin mentioned that Proquest currently deals with over 4,000 libraries and provides them the type of electronic academic books needed to assist students and the public for research.
Normally, when we hear about companies getting bought out, they often get absorbed into the parent company. Proquest operates quite differently and allows its business units to have a large degree of autonomy. This is because the businesses purchased are very specialized and all of them bring something new to the table. Obviously milestones, goals, and other incentives make the subsidiaries try to maximize profits, but it's good to know the key management and technologies are operated by the people who know them best. This also ensures that clients and businesses are still dealing with the same reps and the only thing that changes is the amount of money they have to invest in marketing, leveraging, and developing new products and services.
What is next for Proquest? Now that the acquisition is over, the company is working on a massive new portal solution for schools, libraries, and corporate clients to easily manage buying and monitoring existing content. It will allow people to track library loans, circulation figures, and essential metrics.

Michael Kozlowski is the Editor in Chief of Good e-Reader. He has been writing about audiobooks and e-readers for the past ten years. His articles have been picked up by major and local news sources and websites such as the CBC, CNET, Engadget, Huffington Post and the New York Times.