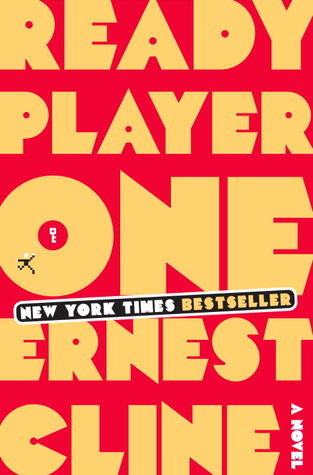 Once in awhile a book comes along with a unique premise and solid execution. The kind of book that people include in their top 10 lists and recommend to friends with great gusto. Ready Player One by Ernest Kline is such a book.
The Book centers around the Oasis, a virtual reality system in which all of the games of the world are interconnected. Instead of accessing World of Warcraft or Star Wars Old Republic through dedicated clients, you visit their planet in the Oasis. There are planets devoted to book clubs, fantasy realms and education. The protagonist, Wade Watts lives in a trailer park and can't afford to go to school, so he attends it virtually in the Oasis.
Ready Player One opens with, Wade, AKA Parzival is recounting the death of James Halliday, the man who invented OASIS and who, when he died, created a system wide game where the prize was complete control of the entire virtual world… if only the players can solve three increasingly-complex riddles and obtain objects of power within the game. Parzival, like countless others, is a "gunter" — someone trying to win the game — although because he comes from an impoverished family, he doesn't have the money to create a powerful avatar that can search for the answers to the riddles.
Ready Player One is notable for its unapologetic homages to 1980's-era films, music, and video games. The novel covers Ladyhawke, War Games, Monty Python and the Holy Grail, Duran Duran, Pat Benatar, Pac Man, Tempest, Zork, and even Dungeons and Dragons. The references in the novel are pervasive, and they alone tell the reader that the book is intended for people who grew up in the 80's and have fond memories of that era.
I really liked this book and countless others did as well. It has an average rating of 4.3/5 on GoodReads, 4.6/5 on Amazon and 5/5 on Common Sense.
I used to read a lot of fantasy and science fiction growing up and the first computer my parents bought me was a Commodore 64. I learned how to program in BASIC and make a rocket ship fly, and had a number of game systems such as the Atari and Colecovision. Movies like Wargames had a really big impact on my life.
Ready Player One has found an audience with people who were teens in the 1980's or remember that era fondly. People who were born in the late 90's or are considered to be millennial's may not get all of the references.
Lets talk Ready Player One. Did you like the book, find it overrated? Weigh in the comment section below.

Michael Kozlowski is the Editor in Chief of Good e-Reader. He has been writing about audiobooks and e-readers for the past ten years. His articles have been picked up by major and local news sources and websites such as the CBC, CNET, Engadget, Huffington Post and the New York Times.