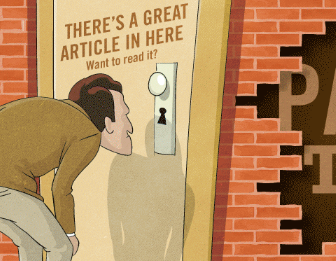 Some of the largest national newspaper publishers in North America have shifted their strategies to sell access for readers to view their online content. They appear to have reached a tipping point for the average city newspaper to tap into a new revenue model, and most are completely floundering. In order to boost sagging print revenues, alternatives to the paywall method need to be considered.
Credit has to be given to the New York Times for establishing the paywall method of news consumption. The newspaper originated the idea on a broad scale, offering a specific number of page views per month for free, then charging for additional content. It now has a dedicated subscription base of 640,000 readers and is generating double-digit growth every quarter in revenue. Several other national papers have followed suit, such as the Daily Telegraph in the UK and The Washington Post.
National newspapers have an easier time with transitioning their digital business to the paywall structure. They all have a very active subscription base that is not centralized. Companies like these do fairly well, but smaller newspapers suffer as they are faced with the conundrum of how exactly to generate enough revenue to offset the dramatic loss of print advertising.
Since 2007, advertising revenue has decreased by around 40% in the UK and United States. Companies that used to be the backbone of generating national and local advertisements have switched to using Google and advertising exchanges. According to some sources, online spending on web and video ads should reach $35.5 billion dollars by the end of the year. Advertising exchanges tend to be the most popular way publishers can inexpensively reach their online audiences. They are essentially electronic platforms that allow buyers to bid on and purchase advertising space at drastically reduced prices. Many websites—not just digital newspapers—rely on these exchanges to sell unclaimed advertising spots, known in industry parlance as excess inventory.
This digital advertising is training ad buyers to expect lower advertising prices, instead of the traditionally higher priced ads in a print newspaper. "It's like a publisher trying to sell me an Armani suit for $3,000, but I can walk around the corner and buy it from Google for 95 % less," said Shawn Riegsecker, chief executive of Centro, an agency. "[Advertisers] are buying audience instead of context and they don't care what sites they are on," said Gordon McLeod, president of Krux, a company that helps websites interpret data.
In conjunction with the recent decline of readership and advertising revenue, we have seen an increase in free news services. Some of these news outlets are among the most highly trafficked websites in the world, such as The Huffington Post, The Drudge Report, Business Insider, Buzzfeed, and Politico. The larger portals, such as Yahoo News and Google News, were built on the idea of producing full service news products with significantly fewer resources and at significantly less cost than traditional news organizations, largely by recycling free digital news feeds.
Paywalls are at best a stopgap measure for the future of newspaper publishers who are trying to find a viable self-sustaining business model. The average paper simply does not have compelling stories that would warrant readers paying money to read their articles. Digitally savvy consumers are getting their news faster from Zite, Flipboard, or Pulse, or even going directly to the source. At the same time, newspapers have to scale back their businesses to adjust to the new digital landscape. In order to be sustainable over the next 20 years, they will have to scale back their operations and reduce their staff sizes. Some newspapers can continue to exist, albeit as vastly smaller and less profitable businesses.
Industry experts have stated that most of their print newspapers will die in the next ten years. The only papers that will be sustainable in the long-term will be small local papers that provide local news, stories, and content that appeals to residents of a specific region. The overwhelming majority of national and regional papers will simply disappear, as they cannot match the zero-day coverage that online news provides.
Beyond the paywall, some news aggregation companies are seeking alternative solutions. There are a few that are working on a proprietary advertising platform that will offer advertisers the ability to buy ads in the local paper and also feature them online. This all-in-one solution is certainly easier to market and cultivates a direct relationship with their advertising partners. One of the drawbacks of exclusively advertising online is that the reach is larger but it is very impersonal. It will remain to be seen if something like this proves to be sustainable. Innovative advertising services are nothing new, but some larger retailers seem to be doing quite well with their own platforms by allowing companies to display ads directly on their products, such as Amazon's entire line of "Special Offers" Kindle devices.
The New York Times is an anomaly and its success should not be emulated. Almost every major publishing company has bought into this model and seldom give out their woeful subscription numbers. The entire paywall concept is a recipe for failure and can be likened to other industry copycatting of successful business practices, as in the case of companies attempting to follow in Apple's footsteps.
Instead of emulating, publishers should be innovating, but cash strapped newspapers cannot be bothered to devote any research and development dollars of note. It is fearful that first the bookstores and now the newspapers will fall by the wayside as the world shifts to ebooks and digital news consumption.

Michael Kozlowski has been writing about audiobooks and e-readers for the past twelve years. His articles have been picked up by major and local news sources and websites such as the CBC, CNET, Engadget, Huffington Post and the New York Times. He Lives in Vancouver, British Columbia, Canada.