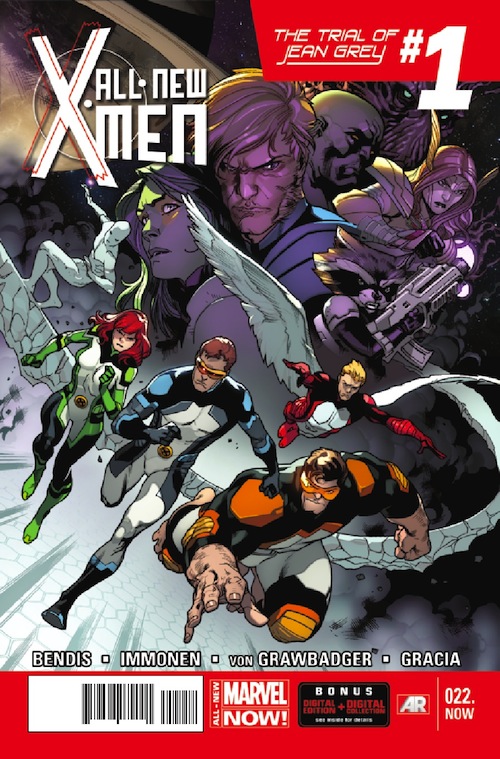 Here's what's looking good at the (digital) comics shop this week:
All-New X-Men #22.NOW: Written by Brian Michael Bendis and illustrated by Stuart Immonen, this issue kicks off a six-issue crossover that brings the Guardians of the Galaxy into the world of the X-Men. The continuity folds over in a weird sort of way when a young Jean Grey, who has traveled through time to the present along with her original X-Men cohort of Cyclops, Angel, Beast, and Iceman, is forced to stand trial for the crimes committed by her other self. Bendis talked about this storyline in an interview with USA Today, saying it will raise some interesting issues of power and responsibility: "I'm always looking for that new angle on that power-and-responsibility jag after 200-some issues of Spider-Man. It's always fun to find one."
Animal Man #27: This issue launches the final arc of Jeff Lemire's run as the writer on the New 52 version of Animal Man, and the stakes are high: Buddy Baker (Animal Man) must save his daughter Maxine from their enemy, The Rot, which is trying to kill her. Lemire also brings in Buddy's wife Ellen and shows the effects of the struggle on her. Rafael Albuquerque's art seals the deal.
Black Widow #2: Writer Nathan Edmondson and artist Phil Noto are getting a lot of critical praise for this new Black Widow series, which has Natasha trying to redeem herself by righting the wrongs of her past as an assassin. Writing at Comicosity, reviewer Roderick Ruth says "Edmondson and Noto are building a great foundation for Natasha Romanov to boastfully stand upon, and one which can only lead to better stories for the Black Widow. This is the most genuine version of Black Widow that I've ever read and I can't wait to read more."
The Walking Dead #120: The zombie saga continues with a struggle between Rick and Negan; there's plenty of action in this issue as the two go head to head.
Elfquest: The Final Quest #1: This is a historic issue as Wendy and Richard Pini's long-running saga heads into its final arc. There's also a prequel, available for just 99 cents, to get you started. Elfquest, which has been running since 1987, is one of the most influential fantasy tales ever; if you're just getting started, you can read the whole rest of the series for free on the Elfquest website.

A former book editor and newspaper reporter, Brigid Alverson started MangaBlog to keep track of her daughters¹ reading habits and now covers comics and graphic novels for Comic Book Resources , School Library Journal, Publishers Weekly Comics World, Robot 6, and MTV Geek. She also edits the Good Comics for Kids blog at School Library Journal. Brigid was a judge for the 2012 Eisner Awards. Send her an email to wordballoons@gmail.com